#CodeintheCommunity: When we teach kids how to code, what do they learn, really?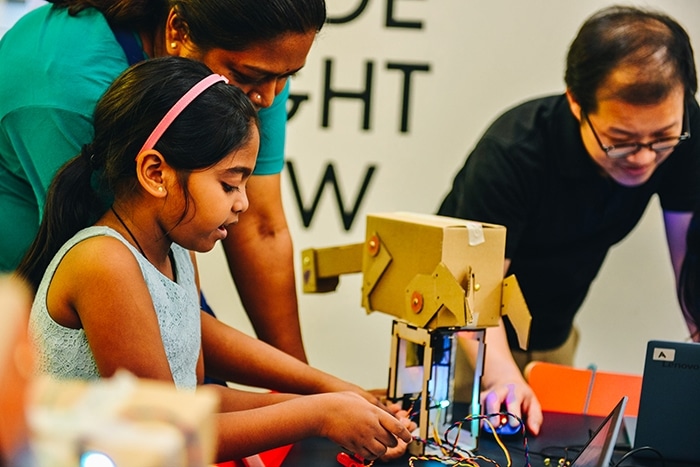 Code in the Community is a Google-sponsored program which aims to get Singaporean kids from lower-income families excited about technology's potential and unlock their natural learning abilities. Join us for the next run of Code in the Community, register your interest as a student or volunteer instructor today!
This is the second in our #codeinthecommunity series of articles exploring what it means and what it takes to create access to computer science and computational thinking for communities that might not typically have these opportunities. We'll be sharing stories beyond the impact metrics and hear from some of the people who made Code in the Community possible.
---

What does it mean to bring coding to the community? At Saturday Kids, we're convinced that digital literacy is not an end in itself but a means to make kids more curious, inventive, and resourceful. Regardless of whether kids ultimately end up pursuing further education or careers in tech, computational thinking is gaining recognition as a valuable life skill and designing learning as a joyful experience can unlock doors for kids to imagine all fields of possibilities. But what does this look like? When we teach kids code, what do they learn, really?
We spoke to a few of the parents of kids we've been fortunate to get to know over the course of Code in the Community and our Pay it Forward initiative to understand the impact of our programmes on their kids – here are some of the common threads we pulled out from conversations we had with the adults who know them best:
Learning to code helps them lean into the future 

More often than not, it's the envisioned utility of programming that forms the initial value proposition for parents. And while grooming a generation of software programmers is not on our agenda, a strong foundation in digital literacy equips kids with a deeper understanding of the times we live in.

As Anbu, the father of Ajay, one of our participants in our "GAME ON! Scratch Masters Design Your Own Game" camp this December explained, "I think coding is necessary for all kids in order to survive and learn and do more things, whatever field they're going in to. Everything is in need of code. I think it's the best thing we can provide them at this age."

Unlocking their happy place and discovering the joy of learning

It's true that not all kids take well to coding – it needn't be said that many of us are born with an inclination or aptitude towards some fields or disciplines, and with less ease for others. Likewise, the local education system as it currently stands isn't designed with sufficient latitude for all kids to thrive. That said, we definitely believe that all kids have it in them to find the joy in learning, and few things make us prouder than knowing that kids have found their happy place at Saturday Kids!

Melissa Shepherdson, whose son Ethan participated in "Become a Rock Star Code DJ", was surprised by how he would come home after class and immediately want to continue working on his Scratch project. "Because it's fun, he enjoys it," she adds

While a developmental language disorder makes certain academic subjects less accessible to her son, being able to explore different mediums like coding and robotics outside the pressures of an academic setting helped Ethan find his sweet spot, and uncover what his psychologist had described as his brilliance. "What's good about CITC is that he got to exercise that part of the brain and have fun doing it without feeling stressed about academia," his Dad, Russell, shared. "

Seetar, whose son Sarveesh and daughter Sadhanaa took part in "Prehistoric Predators: Into the Wild World of Tech", recalls how Sarveesh "came home and said, "'I created this, I made this dinosaur that can move using this technology'. He had fun and so much to say. It really had a good impact." Moreover beyond his enthusiasm, it was one of the rare times that he could sit still and concentrate in spite of his hyperactivity.

Coding to learn


Because we do things a little differently from most schools, kids learn differently too.

As Russell, Ethan's Dad, said, "In CITC, there's no pressure on the kids. They're allowed to do it according to their own pace as long as they get to their final destination in terms of the project. It's not a typical school setup where the syllabus still pushes on week after week even though the kids have not absorbed the content. In this situation, volunteers are there guiding; they're always there for the kids."

Adopting a creative programming approach also allows kids to take the driver's seat and develop soft skills peripheral to just coding. For Ajay, his parents appreciate that he gets to exercise both his creativity and analytical strengths to create a product he can call his own.

This approach also cultivates self-motivated learners who are proud to own their work, like Sarveesh and Sadhanaa."When [my kids] came home they opened the programme they created and showed it to their Dad, their Grandma… there was a lot of expression, visual communication, cognitive thinking, everything," said Seetar.

A growth mindset and creating access


At Saturday Kids, we believe kids will invent the future, and through CITC and PIF, we want to open doors for kids from all backgrounds by unlocking their innate curiosity, resourcefulness, and inventiveness to do this.

That's why we love stories like Sadhanaa's, whose Mum, Seetar, was initially worried about whether her daughter who's not particularly interested in technology would take to the Saturday Kids 5 day holiday camp. "When she told me 'I wanna build a dinosaur' and she talked about Hummingbird and all that, I was very shocked! She managed to do it."

And while we're not trying to make an engineer out of every child, we want to create access to possibilities like these, imagined by Ajay, aged 10: "there's quite a lot that could be possible. I sometimes feel I want to be an inventor, or actually I do feel I want to write some books. I have a lot of things I could do."
…
Our Pay It Forward initiative brings access to digital literacy classes to kids who might not otherwise afford the opportunity. Saturday Kids matches donations from individuals and organisations to sponsor tickets for kids from all backgrounds to attend our holiday camps and term workshops. The kids of the parents interviewed here are alumna of Code in the Community and our holiday coding camps.
Find out more about our Pay it Forward initiative here, or volunteer with Code in the Community to help us impact more kids. Learn more about Saturday Kids' social mission here.
[ssba]
More stories you may enjoy