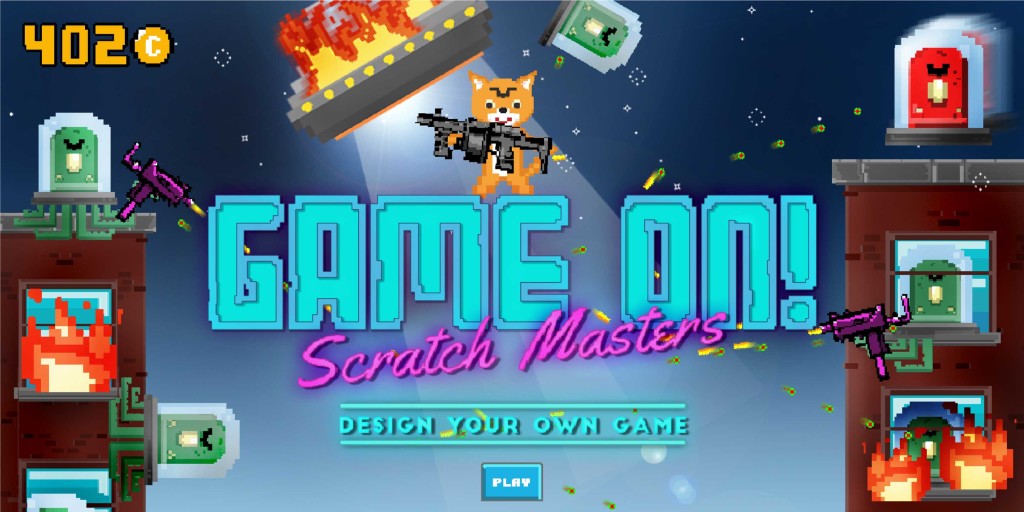 For Kids aged 7-13
What makes a game fun and engaging? How do game designers keep users entertained? In this course, students learn game design fundamentals and the basics of game narratives by picking apart some of their favorite games with the course instructor.
Keepin' it short & snappy
Learn Game Design Fundamentals
Recreate a favorite game in Scratch
Requires Start with Scratch
All you need to know
Here's what the inside of a simple Scratch game looks like.
Kids are able to create games like these as long as they have a basic understanding of how Scratch works.
To make an awesome game, kids need to understand game design fundamentals such as game objects, rules, conflict, play mechanics, goals and feedback systems. They also need to learn the basics of game narratives – storylines, characters, narrative choices etc.
Instructors walk students through some of their favorite games like Geometry Dash, Candy Platformer and Flappy Bird to help students understand what makes a game great. In this Game On! course, kids combine game design theory and techniques with more advanced programming concepts to recreate games that are fun, engaging and addictive.
With practice and patience, kids will be able to create seriously impressive games like these:
Avoid the obstacles and collect bananas as you go! Does it get any more appealing than that?
Defeat the evil slime blobs with your blade of justice and ninja stars!
Oh! The stuff you'll learn
Broken down into concepts for MAXIMUM learnin'
Introduction to the Game Industry
Game Design Fundamentals
Game Narrative and Character Design
Recreate classic games on Scratch
Advanced inputs: Using the webcam & microphone
Writing Game Narratives
Making Interactive Animations
Creating positive & negative feedback systems
Test and debug your game
Presentation time: On your last day, share with your parents what you've learnt!
Life skills you'll learn
Skills that last a lifetime
Pedagogy
Saturday Kids don't learn to code. They code to learn.
No lectures. No memorisation. No ONE right answer. Like real life, we're all about trying things out yourself, failing, figuring what went wrong & trying again. These are the skills &amp mindset that will last a lifetime and how we learn in real life. Let's get kids to learn how to learn. Because the kids who learn to learn become curious, inventive, resourceful human beings who solve real world problems to make a meaningful impact.
Parents love us
Children from our camp enjoyed themselves exploring and learning what the different animation tools could do for them. They were particularly excited to see their own creations come alive.
I've been meaning to write to you to let you know that my son loved his workshop with Saturday Kids in June and I will be enrolling my daughter too for the beginners course that you are doing in October
It is wonderful to hear their enthusiasm and excitement when they talk about their Scratch classes, the words epic and awesome are frequently used!
Your kid will love it.
If your kid doesn't think it's the best thing ever after the attending the first 2 days, we'll issue you a credit note for 50% of the course fee. No questions asked.
1:6 Maximum Instructor-Student Ratio
All equipment & materials provided
Open source tools: Continue the learning at home!
Frequently Asked Questions
1. My child is new to computers and programming. Will he / she be able to follow?
We recommend that your child completes our Start With Scratch: Adventures in Time course for a solid foundation in Scratch and programming concepts before joining the Game On! Scratch Masters, Design Your Own Game! course.
2. My child is younger than 7. Can he / she join?
Sure! As long as your child has completed our Start With Scratch: Adventures in Time course, age is not a problem.
3. I've enrolled my child, what will he/she need to bring?
We'll provide all equipment and materials, but you may want to bring a jacket and light snacks in case he/she gets hungry.