Digital Literacy for Kids Through The Lens of A Tech Investor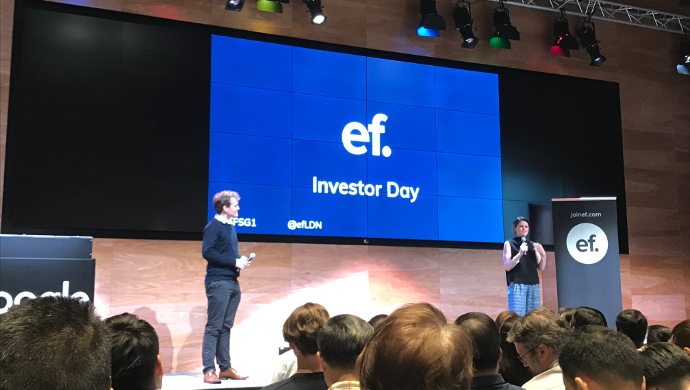 I recently attended EF Investor Day & the launch of Infiniti Lab Smart Mobility in Singapore. Reminded me of why I started a digital literacy school for kids five years ago. Technology is an incredible enabler of stuff that can make our lives more convenient, enriching, meaningful, even. It will be a real shame if our kids are beholden to other people inventing the future for them because they lack curiousity, imagination, resourcefulness and technical chops.
EF Investor Day
Entrepreneur First (EF) is a company builder that supports engineers and computer scientists to build world-class tech companies from scratch. EF finds the world's top technical individuals, put them into teams, and help these teams build technology companies. Here's a line from EF's website – "… the people who join EF are usually motivated by applying new technology and solving hard problems. Technologists who are resourceful, creative and relentless usually make brilliant founders." A snapshot of a few of the teams that presented on stage at the Singapore Investor Day held in Google's office:
Lemnis Technologies is trying to solve motion sickness in AR/VE, thereby building the fundamental technology layer that will power AR/VR headsets
SensorFlow makes buildings energy efficient using a proprietary network stack
Hydroleap makes industrial wastewater treatment cheap and fast
KroniKare provides automatic, non-invasive chronic wound assessments
Ackcio builds real-time wireless monitoring solutions to prevent disasters in construction
Movel AI allows robots to understand the environment the same way humans do
Transcelestial is building a space laser network to replace current communications infrastructure
From the cohort of 12 teams that presented, there are 16 PhDs in fields ranging from computer science to nanophotonics to sensor design. These are highly technical founders who are using technology to solve difficult problems. Many of these founders will probably not succeed, but today we are able to travel across continents and send electronic mails because of people like them – highly technical people who challenged the 'impossible' and came up with crazy inventions.
Infiniti Lab Smart Mobility
Infiniti is the luxury vehicle division of Nissan. Inifiniti Lab Smart Mobility is an accelerator program (in collaboration with the venture capital firm Nest) to drive innovations in the smart mobility space. [Disclosure: I am a co-founder of Collision 8, the co-working space that is hosting the Smart Mobility program]. By providing mentorship and resources to teams that are all trying to solve mobility issues, the programme aims to propel these teams to the next phase and give them the chance to pitch investors and key decision makers at Infini and the Renault/Nissan alliance.
Nurturing The Next Generation of EF and Infiniti Lab Founders Through Digital Literacy
Reflecting on the EF Investor Day and the launch of Infiniti Lab Smart Mobility, I realised it is more important than ever for our kids to be exposed to technology from a young age. And by that I don't mean playing with apps on the iPad or games on the computer. We need our kids to be digital literate – to have a fundamental understanding of how computers work, how we can use technology to solve real world problems, and how to be curious, inventive and resourceful. The world has many pressing issues that need to be solved, from climate change to food security to healthcare. Technology is a tool – a really powerful one – that can solve these problems, and the most successful people over the decades to come are the ones who can use technology to make the world a better place.