Course Description
Code, creativity and construction converge in this course where you'll apply your Scratch superpowers to mechanise your LEGO creations. As you bring your own creations to life, and build your own world, block by block.
KEEPIN' IT SHORT & SNAPPY
Conducted in person, at our classrooms. If your child is sick, test positive for COVID-19, or are out on a Stay At Home Notice during the time of course, write in to us immediately for assistance. In addition, if your kid is under Health Risk Warning, please do administer the ART test and provide us with the results before you attend our classes.
Hands-on, synergistic introduction to robotics, engineering and code
Suitable for kids with Scratch experience
Build creative confidence and problem-solving abilities with LEGO and Scratch
Learn about gears, motors, sensors as you construct your own world
Code meets construction in this hands-on course, where kids use Scratch and LEGO to create their own worlds and imagine the future.
Calling kid coders! You've been put in charge of a brand new planet, and have been assigned to populate your land with an array of creatures, constructions and other imaginative creations.
Apply what you've learned about coding in Scratch – we'll explore the world of robotics and mechanics with LEGO, and bring our first creature to life together: a robotic dog complete with a tail that wags. (A pet your parents will actually approve of!)
Robotic dog Image credits: Scratch MIT
As we get tinkering with hardware and code, learn about how gears, motors and sensors work together to trigger action and movement. Afterwards, share your ideas and discoveries with your new friends!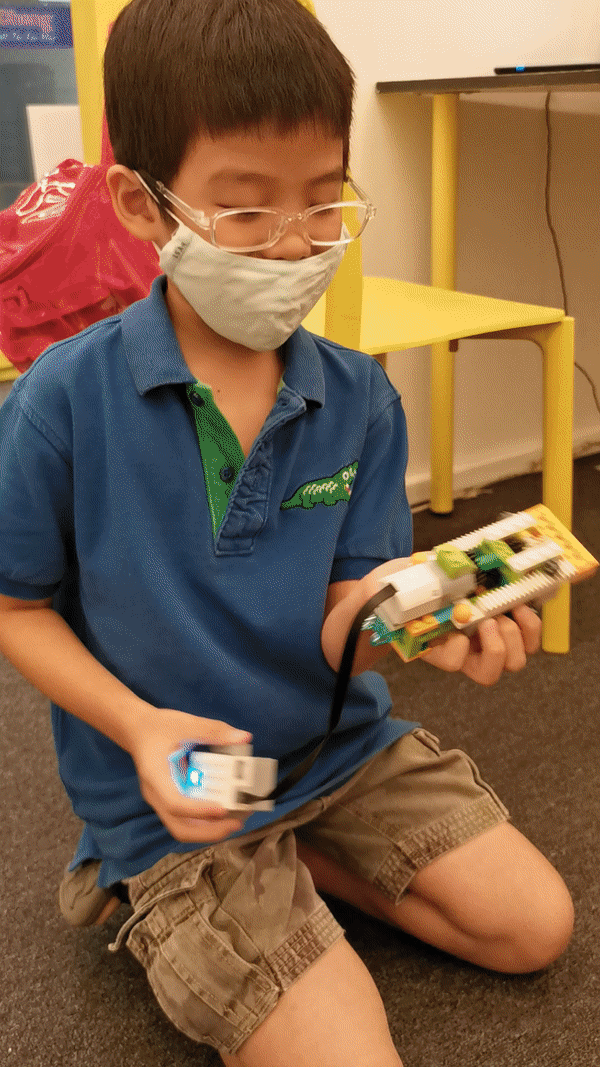 You'll make awesome robo-pets like a fish programmed to swim… (Pond not included!)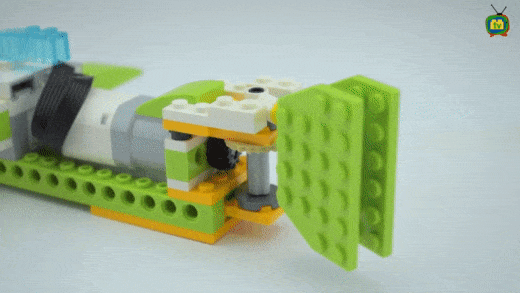 Or design and construct your very own automobile to take your new robo-pets on an adventure in your new world! Will your vehicle be optimised for energy efficiency, designed for safety, visually reflect your personality, or all of the above? It's all up to you!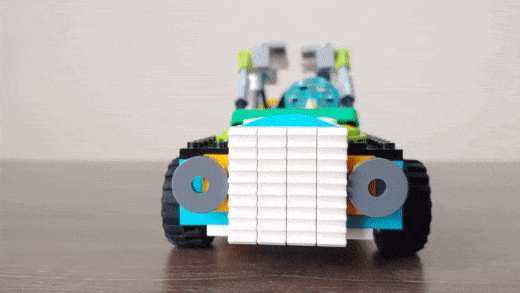 At the end of the course, showcase your fantastic robo-creations with your friends, and marvel at the weird and wacky creations that celebrate your creativity, the power of technology and dreams for the future.
Oh! The stuff you'll learn
Discover how code and mechanisms synergise in robotics – learn how hardware and code interface with each other
Combine hardware and software (LEGO and Scratch) to create prototypes inspired by your vision of the future
Articulate your thoughts and ideas in order to present your projects
Build collaborative and communication skills as you work with your new friends!
No lectures. No memorisation. No ONE right answer. Like real life, we're all about trying things out yourself, failing, figuring what went wrong & trying again. These are the skills & mindset that will last a lifetime and how we learn in real life. Let's get kids to learn how to learn. Because the kids who learn to learn become curious, inventive, resourceful human beings who solve real world problems to make a meaningful impact.
Should government regulations advise against in-person classes, as this camp cannot be conducted online, our team will recommend you suitable alternatives that your curious child will love.
Frequently Asked Questions
1. My child is younger than 7, is this course appropriate for her/him? 
This course is only for kids ages 7 and up. If your child is younger than that, they should instead try their hand at one of our courses for preschoolers.
2. My child has not taken Start with Scratch. Can she/he join this course?
If your child has not taken Start with Scratch at Saturday Kids, she/he should have completed an equivalent foundational Scratch course before registering for this course. Alternatively, if your child has already completed 'Code & Invent with Micro:bit Block Editor' and 'Marvelous Machines & Mechanisms', she/he can join this course.
3. I've enrolled my child, what will he/she need to bring?
We'll provide all equipment and materials, but you may want to bring a jacket and light snacks in case he/she gets hungry.
4. What if government regulations require this class to move online?
Should government regulations advise against in-person classes, as this camp cannot be conducted online, our team will recommend you suitable alternatives that your curious child will love.
Got More Questions?
Reach out to us →