Course Description
Learn to code – the fun way – with Roblox. In this course, kids will get to use their favourite gaming platform to learn coding and make games. Kids will learn the programming language Lua which is widely used in the real world by game developers due to its gentle learning curve and speed of execution.
The Short & Sweet
Held online, attend this camp from the convenience of your home.
Prior programming experience recommended but not mandatory
Navigate Roblox Studio like a pro.
Become a Roblox game creator by the end of this course
Does your child love Roblox? If so, look no further as we use Roblox to teach kids simple programming concepts the fun way. Kids will learn the fundamental building blocks of Roblox Studio to create their own obstacle course (obby).
We will start by introducing Roblox Studio, describing how to add parts and change their material, orientation and color.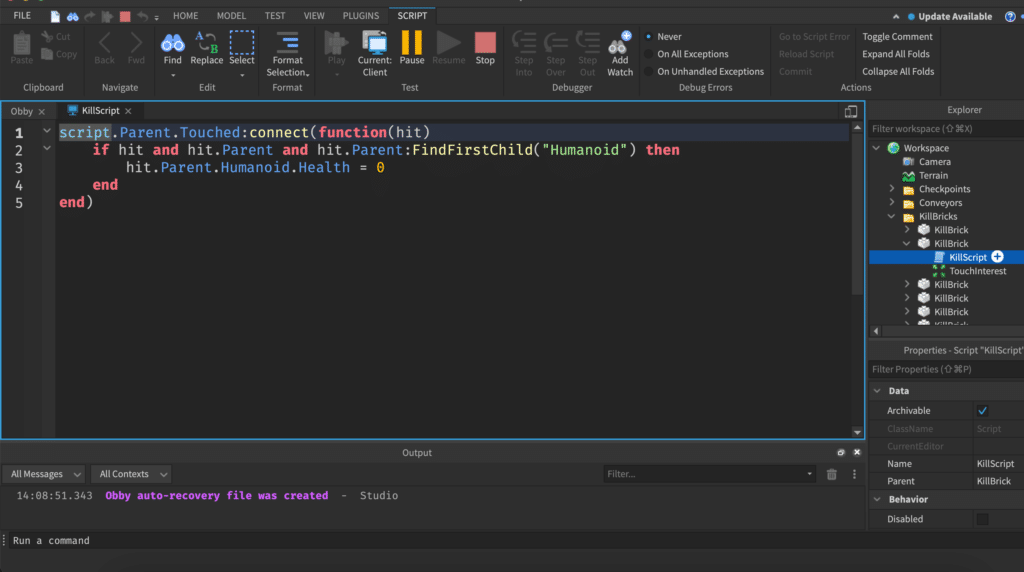 We will then start moving onto more advanced concepts such as functions, loops and conditional statements.
Finally, kids will make their own obstacle course and will code the lava blocks to make the game more challenging.
Oh! The stuff you'll learn
Understand the different components of Roblox Studio and how to navigate through them.

Learn the basics of coding – variables, conditionals, loops, functions and more – using the programming language Lua.

Learn to create scripts and interact with parts and humanoids

Turn into a creator by creating a Obby on your own and interact with it through code.
No lectures. No memorisation. No ONE right answer. Like real life, we're all about trying things out yourself, failing, figuring what went wrong & trying again. These are the skills & mindset that will last a lifetime and how we learn in real life. Let's get kids to learn how to learn. Because the kids who learn to learn become curious, inventive, resourceful human beings who solve real world problems to make a meaningful impact.
Frequently Asked Questions
1. My child is new to computers and programming. Will he / she be able to follow?
Although prior coding experience is not mandatory, we recommend that your child completes our Start With Scratch course for a solid foundation in Scratch and programming concepts first before embarking on this course.
2. Does my child need to have a Roblox account in advance?
Yes, we recommend that you install Roblox Studio before the class starts (https://www.roblox.com/create). We will send you further instructions after registration.
3. What are the minimum requirements for my computer to smoothly run this class?
To ensure Roblox Studio runs smoothly, we recommend the following settings as the minimum:
PC/Windows — Windows 7, Windows 8/8.1, or Windows 10, running IE (Internet Explorer) version 11 or higher. For Windows 8/8.1 you will need to run Roblox in Desktop Mode, as Metro Mode 

(the tiled start-screen)

 is not currently supported.
Mac — 

macOS 10.11 (El Capitan)

 and above.
Graphics Card — A computer less than 5 years old with a dedicated video card, or a laptop less than 3 years old with an integrated video card.
Processor — Processor with a clock speed of 1.6 GHz or better.
Memory — At least 1 GB of system memory.
Internet access. This keeps the software 

up-to-date

 and lets you save projects to your Roblox account. A minimum 

4-8 MB/s

 internet connection is recommended.
In addition, a 2-button mouse with a scroll wheel is required to make it easier to navigate the Studio
Got More Questions?
Read our F.A.Q.