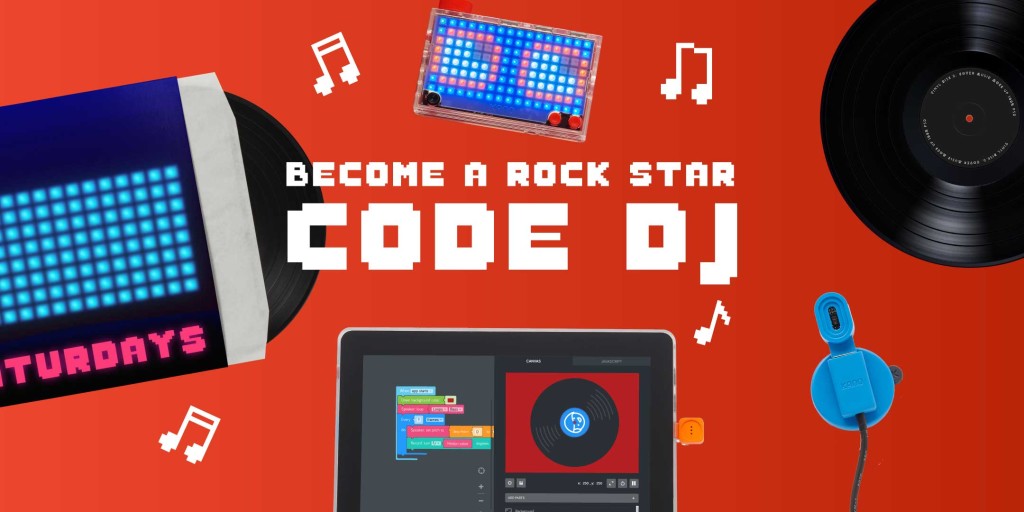 For Kids aged 7-10
Coding isn't just about apps, websites, ones and zeroes. Combine your left and right brain to apply your coding skills creatively to create music, art, visualisations and be the star of your own show… at your debut as a Code DJ!
KEEPIN' IT SHORT & SNAPPY
Understand a computer by assembling one
Get creative with computing by applying code to music, art & more
Kano computer & accessories provided for in-class use only
Start with Scratch recommended
All you need to know
CODE DJs.. IN THE HOUSEEE!
What's a Code DJ, you say? It's someone who uses their knowledge of coding to make art, music and more!
Learn the tools of the trade needed to be a Code DJ
And what better way to learn that than by assembling a computer yourself. Take a look at the insides of a computer, understand how each component comes together & assemble it.
Turn some tables with code
Learn about sensors and computer inputs by turning your computer into a musical instrument you control.
Light it up!
Music's just one part of the show. Be a showman, code a program that generates your own visual effects that dance to the rhythm of your code.
Make your own poster
Every show needs a crowd & every DJ needs a poster. Use code to make your own interactive poster to let friends, families know about your big debut.
It's… SHOW TIME
Put everything together for your Code DJ debut!
At the end, walk away with the understanding programming isn't just for software engineers, app developers… Even if you're a musician (or by extension, any profession!), code can help you to see the world in a different light: A world that can be programmed!
Oh! The stuff you'll learn
Broken down into concepts for MAXIMUM learnin'
Understand the components of what makes a computer
Navigate the computer with the command line
Get introduced to inputs: Motion Sensor
Learn about LEDs & the Kano Pixel Kit
Draw & create your own interactive poster with code
Practical & creative applications of programming
Presentation time: On your last day, share with your parents what you've learnt!
Life skills you'll learn
Skills that last a lifetime
Pedagogy
Saturday Kids don't learn to code. They code to learn.
No lectures. No memorisation. No ONE right answer. Like real life, we're all about trying things out yourself, failing, figuring what went wrong & trying again. These are the skills &amp mindset that will last a lifetime and how we learn in real life. Let's get kids to learn how to learn. Because the kids who learn to learn become curious, inventive, resourceful human beings who solve real world problems to make a meaningful impact.
Parents love us
Children from our camp enjoyed themselves exploring and learning what the different animation tools could do for them. They were particularly excited to see their own creations come alive.
I've been meaning to write to you to let you know that my son loved his workshop with Saturday Kids in June and I will be enrolling my daughter too for the beginners course that you are doing in October
It is wonderful to hear their enthusiasm and excitement when they talk about their Scratch classes, the words epic and awesome are frequently used!
Your kid will love it.
If your kid doesn't think it's the best thing ever after attending the first 2 days of holiday camps (or first 3 weeks of term classes), and would like to withdraw, we'll issue you a 50% credit note of the amount paid.
1:6 Maximum Instructor-Student Ratio
All equipment & materials provided
Open source tools: Continue the learning at home!
Frequently Asked Questions
1. My child is new to computers and programming. Will he / she be able to follow?
The Become a Rock Star Code DJ course is designed with the assumption that students have at least an understanding of block programming with Start with Scratch.
2. My child is younger than 7. Can he/she join?
The Become a Rock Star Code DJ course is recommended for kids who are 7 and above. If your child is still in preschool, we recommend our Curious Cubs or Tiny Techies 1 courses instead.
3. I've enrolled my child, what will he/she need to bring?
We'll provide all equipment and materials, but you may want to bring a jacket and light snacks in case he/she gets hungry.
4. Can I bring home the Kano computer, Pixel Kit or Motion sensor?
No. The Kano computer, Pixel Kit, Motion Sensor, and all other accessories are provided for in-class use only.