Saturday Kids "Travels": Learning through Living in Austria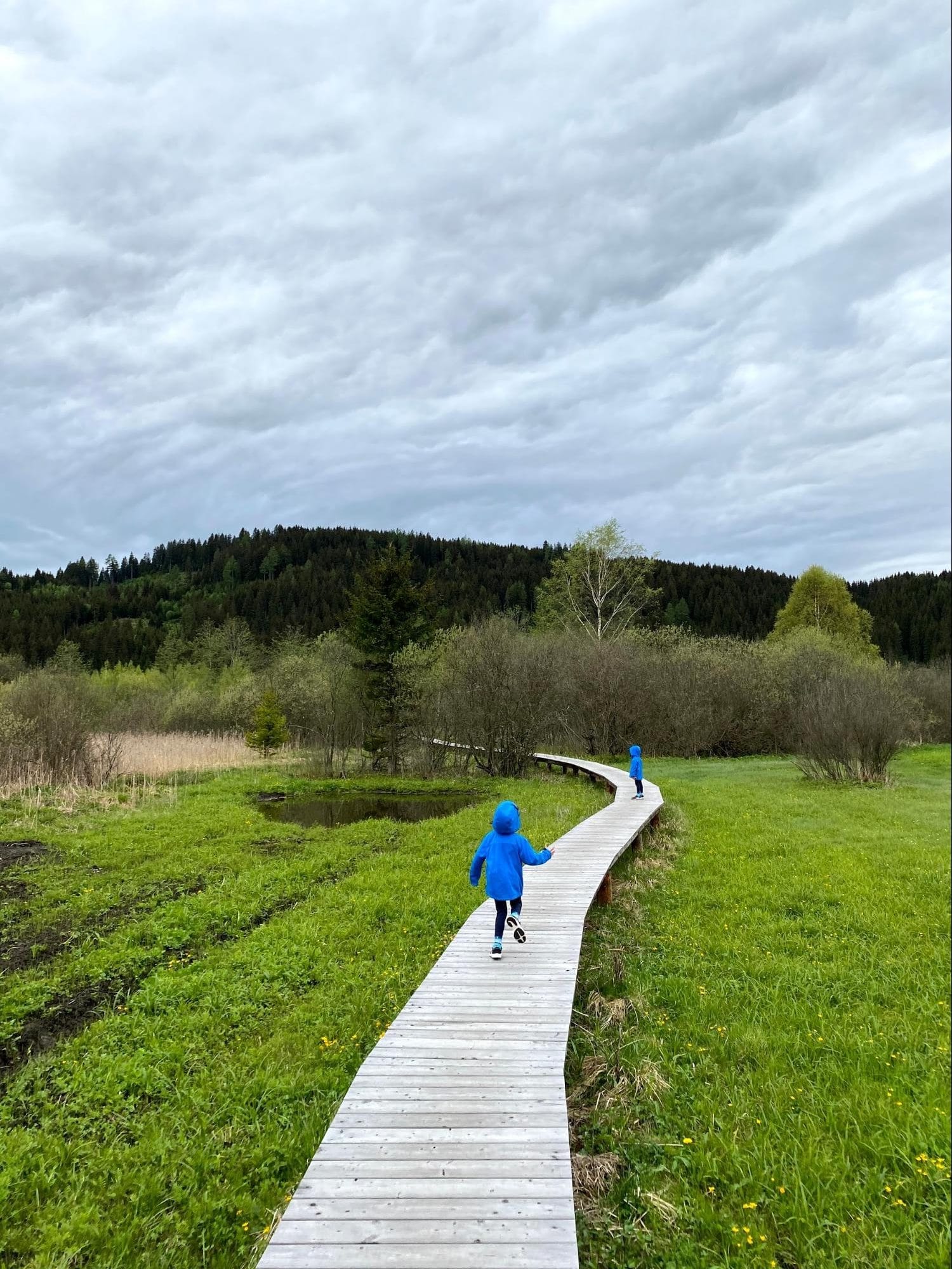 Itchy feet and can't travel? Well, here's the next best thing – a postcard from big kid Nicole who recently relocated to Austria with her family. Here, she shares her experience of spending 24/7 at home with preschoolers under lockdown, and what she's learned about both parenting and childhood from the Austrian way of life.

I'm writing this from our family home in the southern part of Austria, bordering Northern Italy and Slovenia, which are both just an hour's drive away. It's now end-May, and going by all key senses (sight, smell, and sound), we're well into spring. Normally at this time of the year when the weather turns warmer, people would start flocking south to Italy, Slovenia or Croatia for weekend trips.
This year is obviously different.
5 months ago, we moved from Singapore to Austria with our 4.5 year old twins. Before long, Covid-19 rolled around and the country swiftly went into a semi-lockdown mode on March 14th with strict social distancing rules and closure of all non-essential businesses, parks and playgrounds. Like many families around the world, we found ourselves with the kids at home 24/7.
Being in a smaller town in Austria surrounded by nature and with a low population density, the impact of a lockdown has overall been gentler. Stripped of all social obligations, schedules, places to go to and people to visit, we began to relish (even more) the chance to be outdoors everyday while social distancing, especially when the weather is good and sunny. A walk in the woods, a bike ride round the neighbourhood, and spending time in the garden – these are all still permissible activities we look forward to as a way to break the monotony of staying indoors. 
By now, most of us would have gotten used to some kind of a stay home routine – consisting of WFH, HBL (in whichever form that might take or none at all, depending on your kids' age) and keeping everyone fed, active, happy and alive while collectively trying to make sense of this upside down world as best as we can.
For all the relative disruption this lockdown brings, it also created an opportunity for us to slow down and really be with the kids, especially during these fleeting growing up years. It's been interesting to see how kids learn, and how we parents learn too from them during the process – here's a few observations: 
1. Learning is rooted in real life and the everyday
Everyday life offers many opportunities to teach kids real skills, and they seem to enjoy being part of "grown-up stuff". As I learnt from the kids, home is the best place to start. 
They're learning fine motor skills when you get them involved with peeling garlic (tiny little fingers are great for that). They're learning how appliances work when they are empowered to operate them at home (with guidance of course). For example, operating the washing machine, the coffee machine, while explaining to them how it works – somehow the mere act of pressing buttons seems to excite kids. They're learning what goes into a meal when you involve them in the cooking process. They're learning when they help to set the table at mealtime or when they help to fold the laundry. They're learning about recycling when they help to sort out the plastic and paper trash. They're learning how to keep the house clean when they sweep the floor and see how much dust gets collected.
The lockdown in Austria happened towards the end of winter and the beginning of spring. There was a lot of work to be done in the garden (raking of leaves, planting of seeds, repotting of plants, watering of plants), all of which I learned, can be turned into interesting and fun activities for the kids. It might not be text-book stuff but doing real things and learning with their hands provides them with a valuable and authentic learning experience, right here in the context of home.

2. Letting curiosity lead, and learning to listen to the small stuff
At the beginning of the lockdown, I had in mind some sort of a schedule which went out of the window by the end of the second week… and none of us (adults and kids) really minded. Instead, we settled into a loose rhythm where there's a time to eat together, to have a joint activity together (outdoor or indoor) and time for the adults and kids to have their own work-time/play-time/me-time. It was not very structured and was also rather weather/mood/work dependent, but it all came together somehow.
There was a period when the kids got really fascinated with our laptops. They wanted to know all about how computers work and were curious about this fun thing called the internet where they can watch their Paw Patrol cartoons. I recalled a wonderful online resource called Hello Ruby by Linda Liukas (who is also a friend of Saturday Kids), where kids can learn about computers, programming and technology through offline art and craft hands-on activities. One day the kids were building their own paper Apple laptops, and the next, making and designing/colouring their own keyboards. I don't have all the answers to their endless questions but it's great to be able to tap on all the rich multimedia resources available out there whether it's online (YouTube, podcasts) or offline and be able to learn alongside them.

Kids around 4 years of age seem to be asking a million questions everyday, which is a great reflection of a child's imagination and their unfiltered curiosity of the world around them. There is this quote that I really like:

"If you don't listen eagerly to the little stuff when they (kids) are little, they won't tell you the big stuff when they are big, because to them, all of it has always been big stuff".

I think the same goes for listening and addressing all the small and big questions kids have, which is so important for keeping their curiosity and love for learning alive.

3. Trust goes a long way
We've been spending a lot of time in the garden tending to the vegetable patch (with the help with their grandparents who taught us a lot about growing our own vegetables and fruits). I observed how even little kids were given real tools to work with and responsibilities to undertake, while being made aware of the risks. Our neighbour handed them a full-size hammer and a nutcracker while teaching them how to crack walnuts. In the kitchen (and in their kindergarten previously), I noticed how little kids were trusted to handle and use glass cups, and porcelain plates.

I remember seeing this in action as well at the Saturday Kids Unplugged Summer Camp in Karuizawa last year too where kids were given real woodworking tools to work with. With proper guidance, it gives kids immense satisfaction and pride to know that they have been given the responsibility and trust to deal with real tools, and that they can manage them independently.
At the time of writing this, lockdown measures have eased in Austria. As the same happens across the world, life will not go back to normal as we know it. But perhaps that's okay and in a way it might be for the better, because our old normal was not really a sustainable way of living. As tiring as most days might be, I think I'll be nostalgic for this period when it all passes.
For all the disruption that Covid-19 has brought, I think it's also important to remember how unique a time this is for families, the bonds and experiences that were shared during this messy but strangely beautiful period, and to think about the stories we will tell our kids in future.
. . .
Nicole is a digital marketer and photographer now based in Austria with her family. You can see more of her work and get in touch here on her site. ♥