Pay Attention and Be Curious: What happens when Code Meets World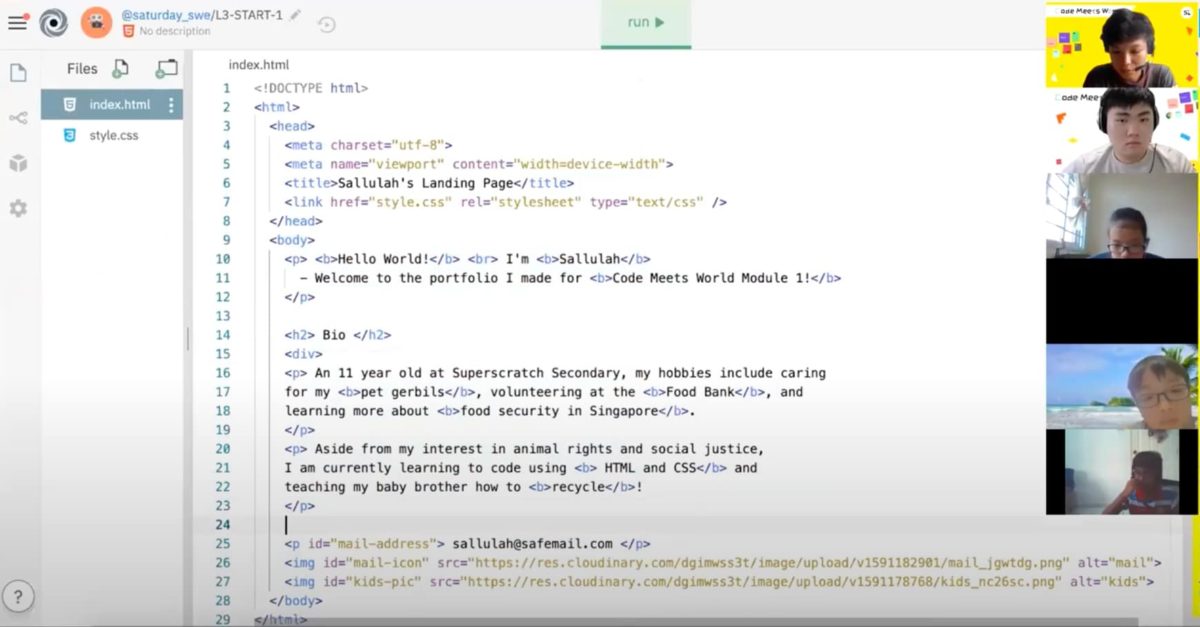 When we first piloted Code Meets World, we were a little nervous – but mostly excited – because it was our most ambitious product yet and the one most closely aligned with our mission to inspire kids to create a better future with technology. We knew this might not appeal commercially to most mainstream parents, and couldn't think of any other coding schools that we know of offering anything remotely similar.
And through the interdisciplinary programme, we hoped to point kids towards using tech as a tool for addressing big questions – to expand their worldview, use web-based technologies to explore their curiosities, and communicate their ideas and concerns through code, without prescribing what they should or should not create. It felt like an open-ended adventure – if you're curious to find out what kids learned over a year of Code Meets World, read on:
Learning about how things on the internet really work. 
Sanjit: 
"I really enjoyed learning about dark patterns – I've been tricked by such websites before unknowingly, and was able to recognise them as dark patterns after we learned about it in class."
Janelle: 
"Code Meets World really teaches you about how things work. You get to understand what's happening in the process of using Chrome or Wikipedia, in terms of both the coding and design. 
Learning how to make a website surprised me. It was like "wow" – this is complicated. But also easy."
Connecting the dots between code, themselves, and the world.
Aiden: 
"I see coding's relevance to the future – everything might be operated by robots in the future! I would like to be a pilot, and this means I'll get to monitor all the robots at work and data as well."
Gabriel: 
"I used to think that coding was for fun and enjoyment.
But I've become more interested in coding and computer science after Code Meets World. It's made me feel like I'd like to pursue a career in this industry. Perhaps in software engineering, or as a data engineer where I could combine coding with my interests in car performance."
Learning how to learn, and leanin' into the future.
Aiden: 
"Coding is fun, don't give up! Pay attention and be curious."
Janelle: 
"Code Meets World really teaches you about how things work. They might look hard at first, but you'll realise that they are easy and you'll feel very accomplished once you've completed the projects in class."
Curious about what the curriculum for an interdisciplinary approach to creative coding looks like? Learn more about Code Meets World: Applied Coding for Big Ideas.
PS: As part of our mission to democratise digital literacy, 50% of students from our first Code Meets World cohort are graduates from Code in the Community – Singapore's largest free coding programme for disadvantaged kids – whose spots in the programme were made possible by donations by individuals, companies, and Saturday Kids. Find out more about our social mission and the Pay it Forward scholarship programme, and shoot us an email to get involved.
[ssba]
More stories you may enjoy