Friends of Saturday Kids: Kani Munidasa of Code Chrysalis – "Software is the Future"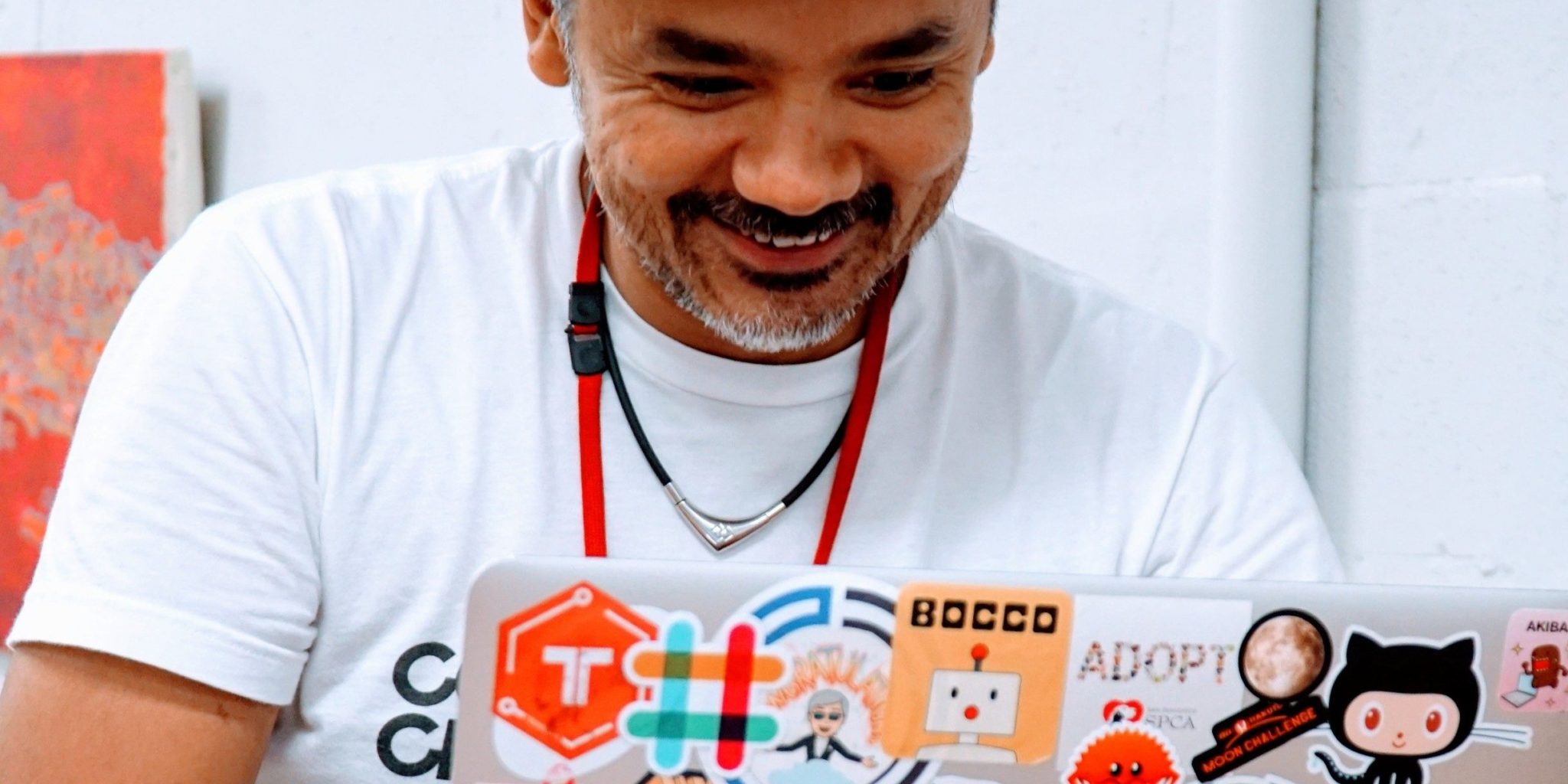 We first met Kani Munidasa – co-founder and CEO of Code Chrysalis – when we launched Saturday Kids Japan in Tokyo earlier last year. A coding bootcamp that emphasises community, mentorship, and outcomes, we immediately aligned on our shared values of using code not just to impart technical skills, but to inspire and change lives holistically. Read on for Kani's story and why at Code Chrysalis, learning to code is just a small piece of the puzzle.
Hi Kani! Tell us more about who you were before we met.
"I was born in Japan but grew up in Sri Lanka. I came back to Japan for university because I wanted to do robotics and at that time Japan was a clear leader in many areas of tech. After working in Japan for a few years, I wound up in the corporate world in Boston and then in San Francisco.
These international experiences gave me the best of both life and business experiences. For example, my time in Japan taught me how to read the air, while my time in the States showed me that it's important to ideate and speak up. I learned how to adapt and appreciate the cultural differences."
So what inspired you to switch paths to becoming an educator after years in the corporate world?

"Until 4 years ago, I was a salaryman, then I got worried. While I was moving up in the ranks I found myself getting complacent; I only had successes – no failures – and that scared me.
As a mechanical engineer who didn't know how to code, I wanted a challenge, and after consulting my family I gave it all up to join a coding boot camp. 

That boot camp whipped me into shape and made me who I am today. 
Coding aside, I learned a lot about myself – mainly that I can empower others, and I enjoy it. 
That made me realise I wanted to pursue teaching and empowerment, and that led me and my co-founder Yan Fan to start a new boot camp."
Can you share more about Code Chrysalis, the boot camp you started together?
"We named our bootcamp Code Chrysalis because we want it to be a place where people are transformed.
We had 3 objectives when we started: 
To develop software engineering leaders in Japan,

To bring more women into technology and,

To create an exclusive community of software engineers.
For us, Code Chrysalis is more than a business – we are creating a movement here in Japan. We want to change the industry and we want to empower people.
When I was a student, Japan was a technology leader in many areas. Today it's struggling to maintain that seat and in my opinion that's because Japan is falling behind in harnessing  the power of software and leveraging English to take these new products and services to the world. Japanese companies look at software development the same way you might look at hardware development – they expect everything to be perfect. But software is never perfect, it always needs to be improved through iterations and developed fast based on user feedback."
What's it like being a student at Code Chrysalis?
"Our students are mostly here because they want a career change. We're quite selective – while many of our students are absolute beginners while some come from an engineering or tech background, but we also look out for passion and energy, because those are contagious and impact classroom culture.
In a nutshell, Code Chrysalis offers students the opportunity to learn full stack software engineering skills, modern software engineering best practices, grow as an autonomous learner, communication skills and teamwork.
Unlike other coding bootcamps, we don't award certifications of completion and that's because we believe that your skills should demonstrate your superiority.
In addition to the actual bootcamp, we promote ourselves to companies and startups that require engineers, and run an immersion programme in Tokyo where students who participate in our courses present their ideas and build confidence as engineers.
We want our students to build a life, not just learn to code.

Soft skills are a critical part of that process, and students need to learn how to be comfortable with discomfort and continually challenge themselves.
For us, learning is not a race – it's a collaboration."
We're excited that your bootcamps are now going online – which means that students anywhere in the world, including Singapore, can take part.
"Yes! We're happy to say that after running in Japan for 3 years, we have a great product.
We're the only school in Japan, and only one of two in Asia, with CIRR certification which is a testament to upholding educational standards and outcomes for our students. Essentially, being a part of CIRR demonstrates our commitment to changing our students' lives. 
Our online bootcamp centers around an engineering curriculum and soft skills – specifically communication and speaking up .
Companies should know that a few lines of code is enough to change their bottom line. With the ability to code and communicate, you'll be in good demand.
We're excited to bring this to more students in Asia, especially now that the employment landscape is changing so rapidly, and employment for many is precarious."
What kind of shifts and transformations has COVID triggered for Code Chrysalis?
"We see the impact of COVID as an opportunity not a threat, but it has demanded that we react quickly
In engineering, there is a term called mobile first – designing for a mobile interface first. But because of COVID, we have coined a new term: remote first.
From now on, when we design curriculum, we are going remote first to ensure it can be executed remotely. It's more difficult to maintain quality and control when lessons are remote, so if we nail that, we know we'll do alright."
What kind of changes and trends do you see on the horizon for young people all over the world?
"Technology and software are leading the world now; every company is essentially a software company.
There is a need for companies to bring in software capabilities – that's the only way they can improve.
The future is about software. Whether its services or products, that will be the differentiator."
. . .
Code Chrysalis' coding bootcamps are going online! If you're looking for the opportunity to carve out a career in programming, check out their online offerings, and use the promo code 'SATURDAYKIDS' to save 15% off course fees for their Foundation and Foundation Lite bootcamps. 
[ssba]
More stories you may enjoy