How Art & Tech can Create an Inclusive Society: A perspective from big kid, Fong Yee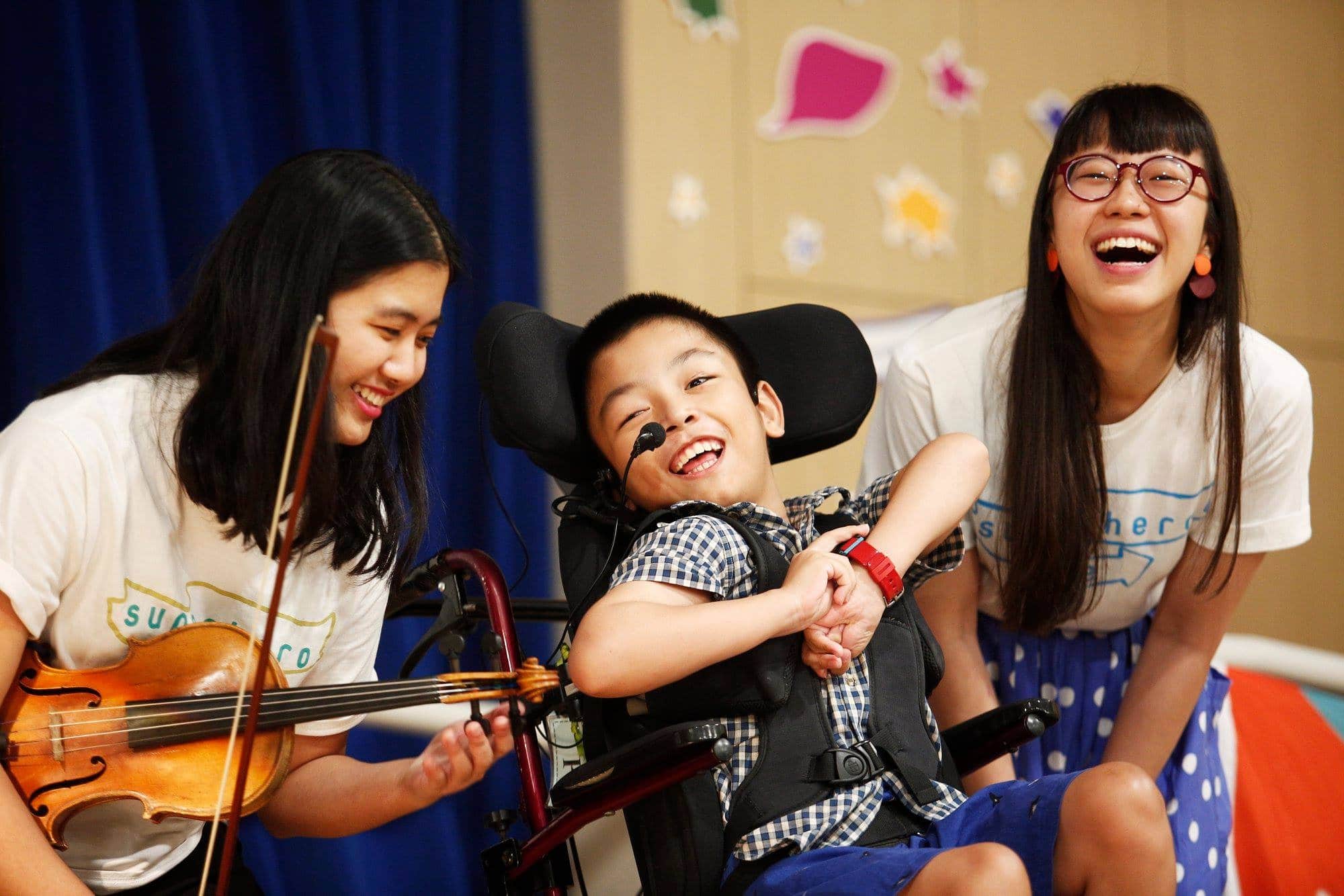 Fong Yee is a multidisciplinary artist who works with technology and kids – occasionally at the same time. An instructor and graphic designer at Saturday Kids, she also recently served as artist-in-residence at Superhero Me!, a ground-up inclusive arts movement that empowers children from diverse backgrounds through the arts, social mixing and purposeful programming. In this guest post, she shares insights from her experience and how art and technology can be used to create an inclusive society.
Photo credits: Superhero Me! on Facebook
We need to talk about how art and tech can create an inclusive society.
I was one of six artists commissioned to be part of Peekaboo!, a five-month-long residency that culminated in a beautiful inclusive arts festival in March this year. As a multidisciplinary artist and instructor at Saturday Kids, my practice often sits in the intersection between tech and kids, sometimes involving them both at the same time.
The Superhero Me! workroom at  Rainbow Centre.
Story of The Sky, the project I did as part of the residency, was about a group of kids who travel to the sky, imagine and discover new creatures and stories. In this project, I worked with a group of ten kids from Rainbow Centre Margaret Drive who are minimally verbal and mobile. For this group of kids (affectionately known as sky kids), assistive technology is the tool that enables them to connect and communicate with their community.
How then as an artist, can I push the use of technology also to empower them to express themselves creatively, to tap on their inner light and imagination?
Through the use of various programs, including but not limited to an eye-tracking program that enabled them to draw with their eyes.

The public at PEEKABOO!, appreciating work by a group of students who use assistive technology devices to communicate.
This was my first time working with both tech and kids with special needs at the same time. How timely it was too, that in the early days of the project when I was learning how to understand and include kids with multiple disabilities, I was also teaching a holiday camp at Saturday Kids where one of my preschool class had a boy with mild autism. There were five kids in total, 1 with special needs and the rest typical.
The toughest part was not working with the kid with special needs, but to help the rest of the class understand why he takes more time to follow instructions, how we have to learn to communicate with him because he is still learning how to.
Sometimes it is difficult when the things he does appear rude, like when he takes someone else's book without asking, and when he doesn't share his crayons.
Trying to explain autism to preschoolers is a very daunting task, but what I can do is to tell it simply, that he is still learning to communicate, learning to understand how to follow instructions, just like how we are all here learning how to code, to give instructions to our computers.
The learning process is non-linear and individualised, and while some of us learn faster than others, we can still learn together. By the third lesson, the kids were not as apprehensive towards him as they were at the start. They involve him in decision making, and they learn to tell him that he needs to ask for something before taking it. More importantly, when he did not heed an instruction I gave him, another kid said simply that he is still learning! The class might not have understood what autism is, but they have learnt that we are all unique in our own way, and what is different is not scary!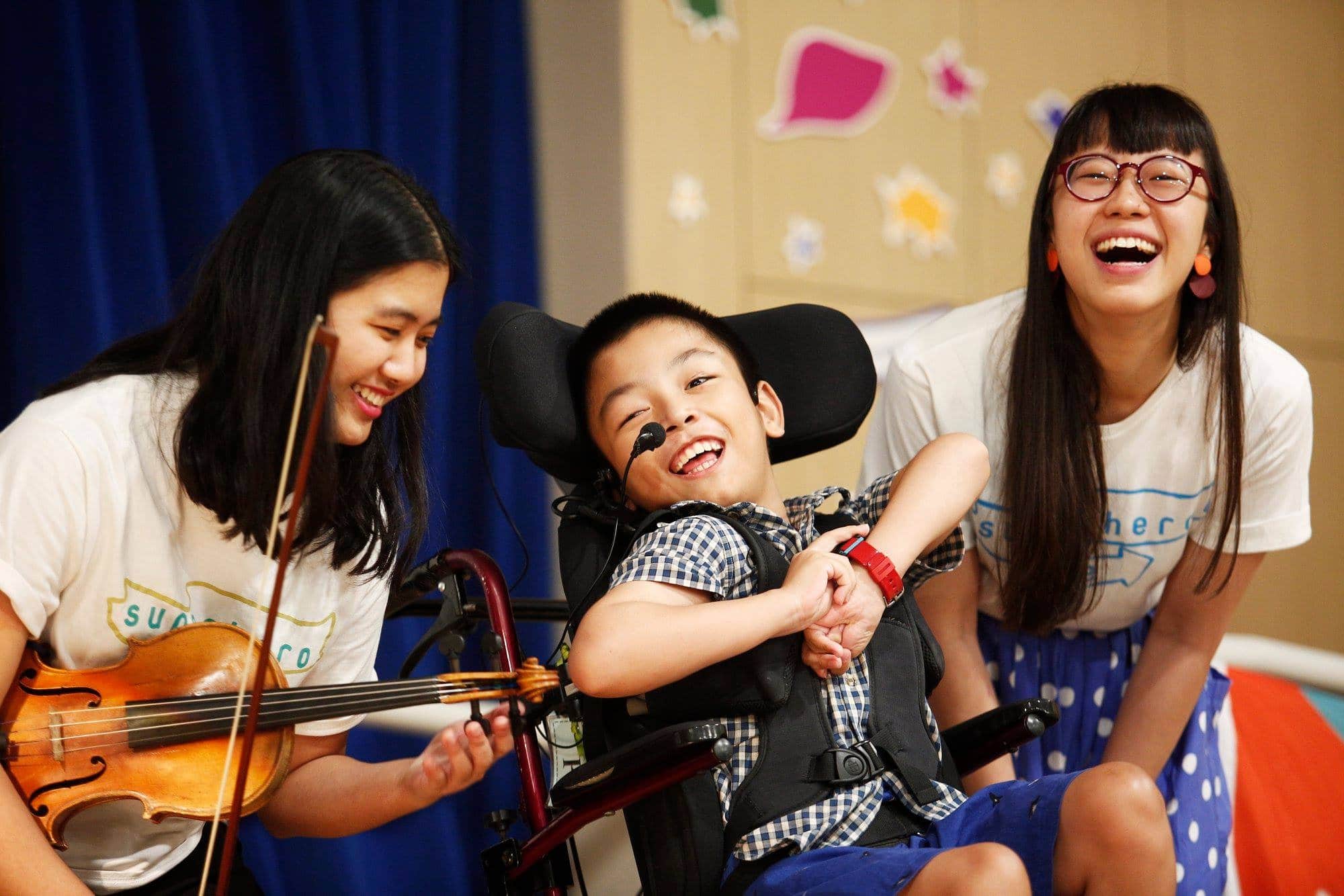 Captains Natalie, Fong Yee & Javier kicking off the PEEKABOO! opening party.
It felt good to know that this was a small step in making a difference, to prove that if we are open and honest with kids, they are often much more understanding than we give them credit for. Fear is the biggest obstacle on the road to inclusiveness, and if we relearn the courage and curiosity that is innate in all children, we will then be able to take more significant steps towards an inclusive society. Once we overcome the fear of the unknown (that is special needs) and make an effort to ask and to understand, it will quickly become evident that inclusiveness cannot happen if we exclude typical kids. We have to trust and include them in our conversations so that we can create a safe environment for all kids to be together.