Emmanuel Soon: I taught myself to code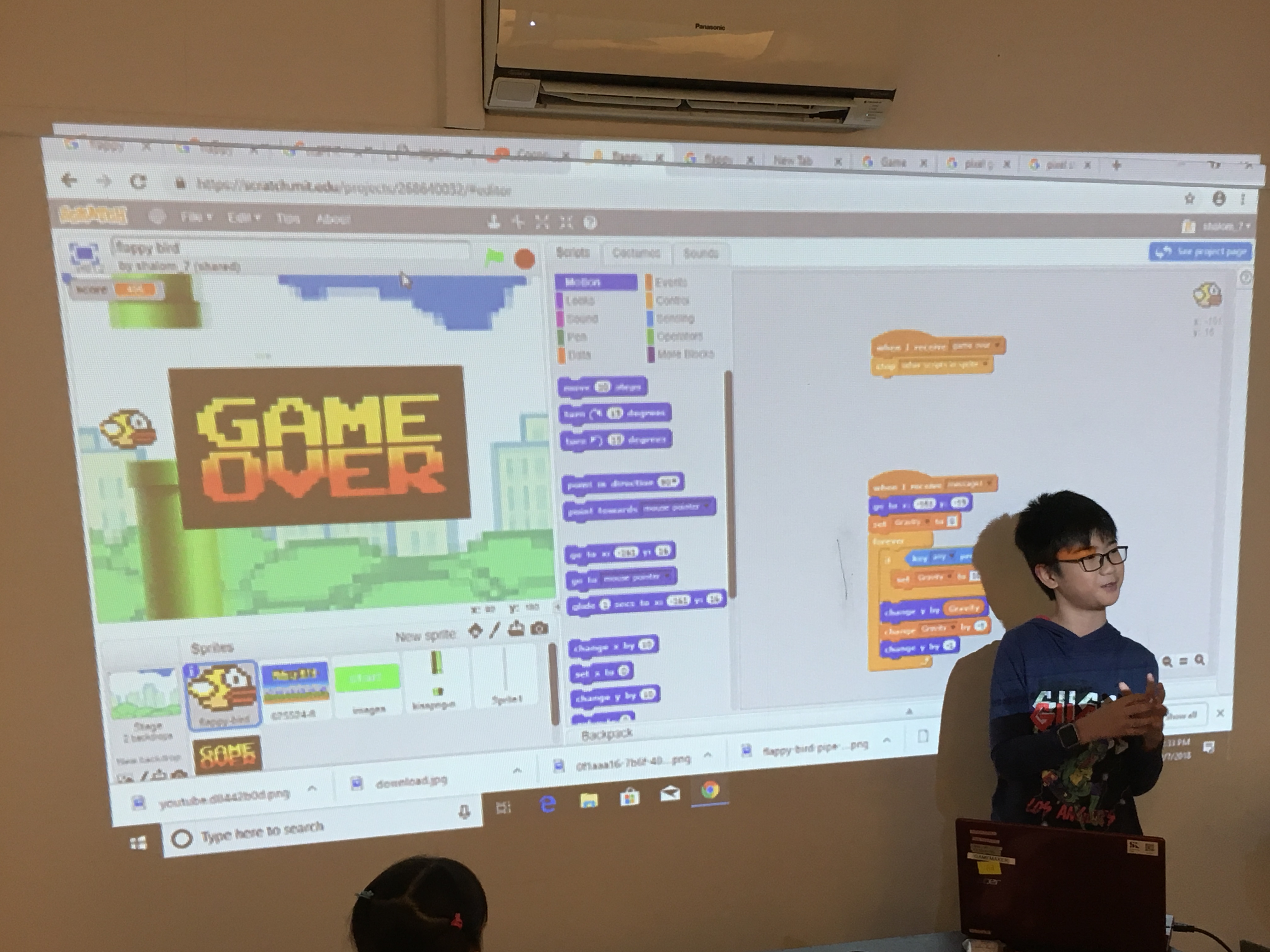 The Kids of Saturday Kids
Over the last few years, our team here at Saturday Kids has been inspired by many students who have joined our coding classes, each exemplifying what we at Saturday Kids stand for – being Curious, Inventive, and Resourceful. In this series of conversations with our students, we look at each of their individual journeys and also hear what they have to say about their learning experience so far.
---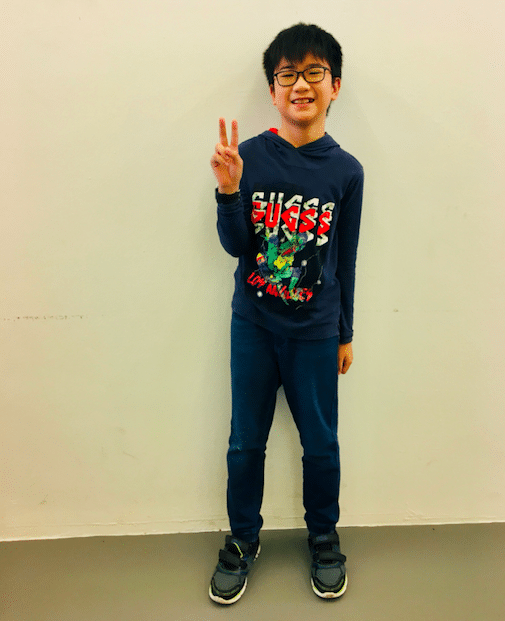 One of our newest and most self-directed kids, Emmanuel Soon (age 10) picked up coding through a book! With minimal on-screen experience, most of what he knew of Scratch before he joined Saturday Kids was self-taught and picked up through reading. His instructor described him as Mike Ross Jr (from Suits, if you get the reference!) This Nov-Dec, Emmanuel enrolled in our Intermediate Scratch camp, Game On. He shares with us how he started coding, the challenges he faced, and what he's planning to do next.
Saturday Kids: Hello Emmanuel, tell us a bit about your interests – what do you like to do when you're not in school?
Emmanuel: Hello, my name is Emmanuel, I'm 10 years old and I like to doodle in my free time. I also read a lot!
SK: Oh wow, so a little birdie told me that you learnt Scratch by reading a book. Is that true?
Emmanuel: Yes, that's what I did. I found a general book about Scratch & Python which looked interesting. As I read that I thought, "Hey, that's nice" so I asked my parents if we could try out Scratch. We went to the Scratch website and had a look at it.
SK: Where did you find this book? In the library?
Susan (Emmanuel's mother): Popular. He didn't buy the book at first. He kept going there to  steal 10-15 mins to read the book until I decided to just get it for him because we kept having to go back to Popular so often!
Eventually I decided to send him for a Scratch camp because I didn't know if what he was reading was right. I mean, how do you understand the program if you don't actually use it. We restrict his computer time at home so he doesn't get a lot of time online.
SK: So what got you interested in coding? Why did you feel like you wanted to read about Scratch or try this out?
Emmanuel: That's a hard question…I thought it looked quite fun and I thought maybe I could just try it out and if it's not fun I could stop.
SK: Was that the only book you'd read? Because honestly it's quite amazing if you picked up Scratch from just one book!
Emmanuel: No, I read a few books but i really enjoyed that one the most.  
Susan: I wasn't going to buy him so many books in one go so I just asked him to choose 1.  Eventually I decided to send him for a Scratch camp because I didn't know if what he was reading was right. I mean, how do you understand the program if you don't actually use it. We restrict his computer time at home so he doesn't get a lot of time online.
SK: How did you feel then when you made your first project?
Emmanuel: It felt great! Like hey, I finally created my own game!
SK: Was it hard? It's very different reading about something versus finally doing it. How was that experience?
Emmanuel: The first project was very hard. I created a game about a dinosaur chasing a cat. I only used a few simple blocks but I took 15 minutes to put the whole thing together!!
SK: …that's very fast for a first project!
Susan: That's because he only gets 15 minutes on the computer! (laughs) So that was what he had to work with. Sometimes during dinner he just sits there and thinks of exactly what he wants to do once he's on the computer.
Emmanuel: I made other games after that with the help of my book. Once I was done with the book, I closed it and then went back to think about all the things I wanted to fix in my project and then tried to do it without the book. But sometimes I had to refer back to the book to fix some of the bugs.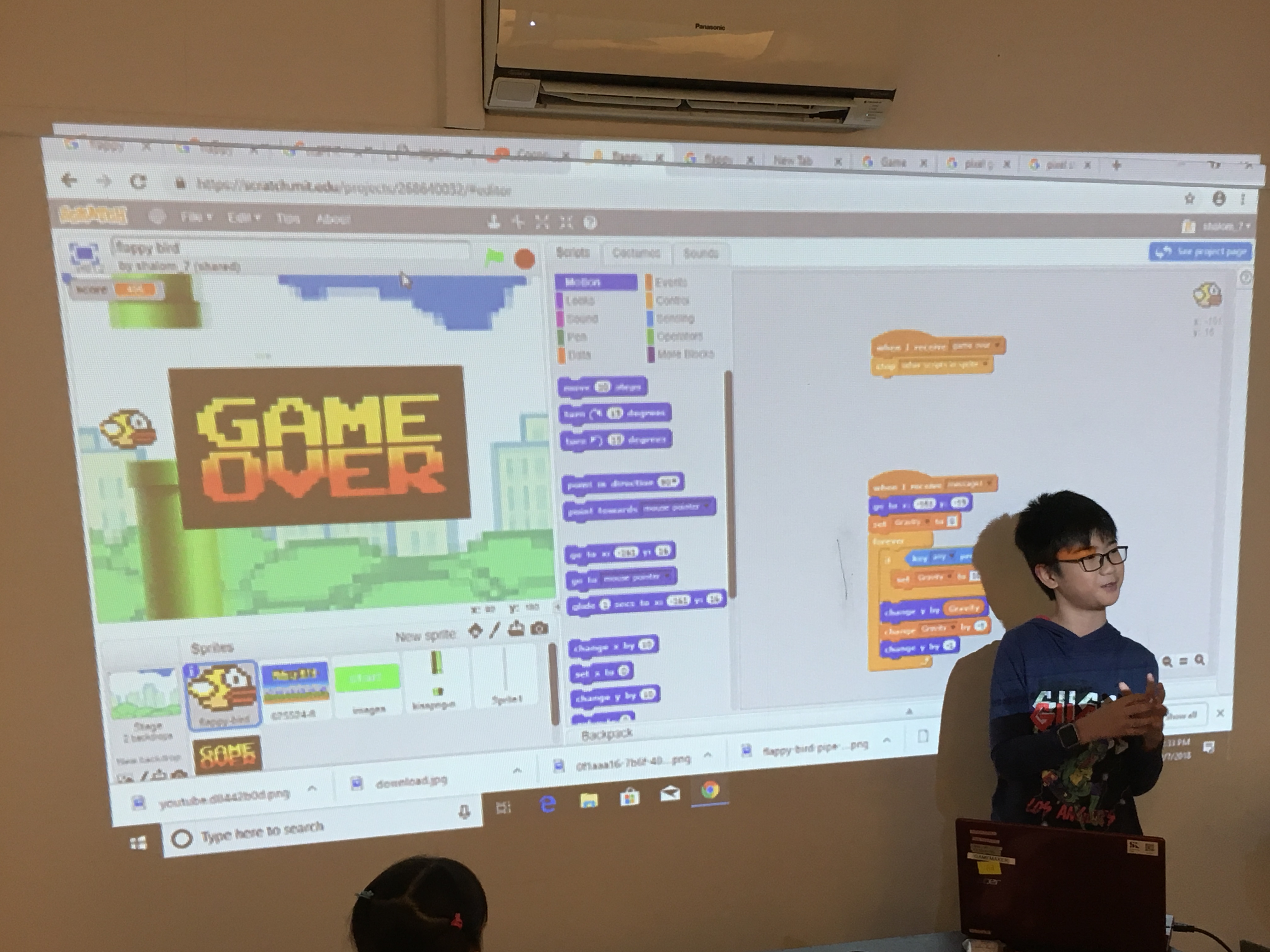 SK: So what was it like coming for camp, where you had 3 hours everyday on the computer to create these projects instead of the 15 minute bursts you usually have at home?
Emmanuel: Awesome!!! Having an instructor definitely helps a lot.
SK: What was the biggest challenge you faced when you were creating your project?
Emmanuel: For my flappy bird game, the biggest challenge I faced was with the pipes. They were getting too predictable and then I ended re-doing the project. So it was mostly a lot of trial and error.
SK: How do you feel now, having continued with Scratch and learning these new skills?
Emmanuel: I'm a lot happier now! I'm definitely better at logical thinking now because you need to really think about the different blocks  in Scratch and how they work off each other. I have a sense of satisfaction now because I've completed Scratch and now I'm moving on to a higher level, which is Python. I still have the book and I've already picked up a bit just from that.
SK: Is Python your next step? But are you going to keep working on your Scratch though?
E: I don't know yet, but Python is more real-world programming. No one who's 50 years old  is still programming with Scratch! When I look at other projects it's all 01010 and other things. It looks very hard, but i want to learn. Also, I'm still a single-finger typer. Everyone in my class is usually already done typing and they're waiting for me to finish and I'd slowly type with one finger at a time.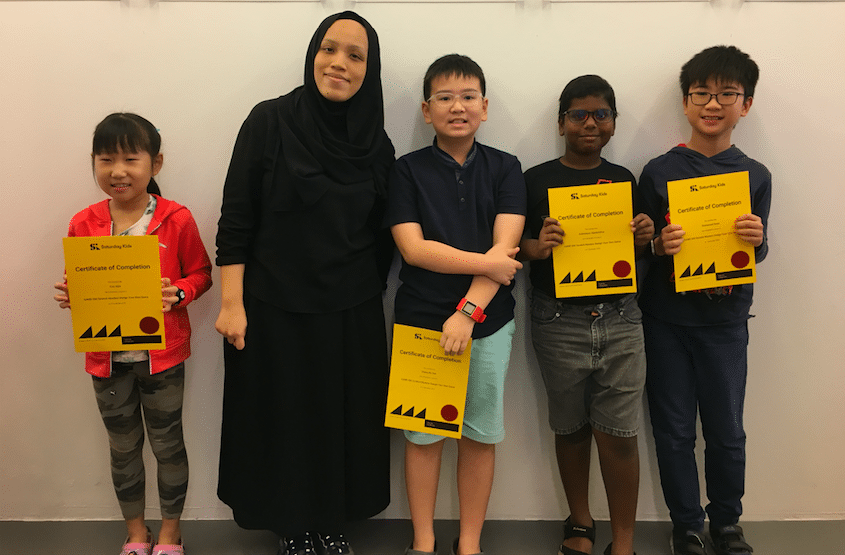 SK: Well, everyone starts somewhere and it's great you've caught up with the rest of your classmates! So is this something you'd encourage your friends to try out?
Emmanuel: Yes, I would because it's about games! So even if they're bad at scratch, they'd be like, 'I must program, because games!!'
SK: Alright, last one: Tell me one thing that you loved about camp and one thing that you would change
E: I really enjoyed the instructor, she helped me a lot. One thing to change…there's nothing much to change but I wish classes were longer!!! 😀
…
It was a joy to meet Emmanuel, someone who really exemplifies what a self-directed learner is. At Saturday Kids, our students don't just learn to code. They code to learn. We cannot teach kids everything there is to know. But what we can do is bring out the curiosity in kids, encourage them to look at problems and think "I can figure this out myself"
Help your child discover the joy of coding and become a self-motivated learning through our weekly coding workshops. Let them experience the happiest 2 hours of their week! Details here.
If you have a story to share with us about how your kid's experience was, we'll be happy to hear from you! Please get in touch at [email protected]