We always have parents asking us: what's next?
"My child has done Start with Scratch, or he's done Become a Rock Star Code DJ – so what can they do next?".
At Saturday Kids, we believe that there isn't just one path towards helping kids stay curious, inventive and resourceful, and hence you might notice that we do not have a typical linear progression. Here's why. 
Breadth vs. Depth
The question of breadth versus depth is something our team has always been grappling with. With breadth, you learn a little bit about a lot of different things. With depth, you learn a lot about a few little things. Is either one really better than the other? Depends. Are you looking to introduce your kid to coding and show them what's available, or are you already sure that your child wants to pursue one language (e.g. Python) in depth?
At Saturday Kids, we tend to go more for breadth than depth because we believe that at the end of the day, the fundamental idea is that coding is relevant and useful to the extent it can be applied, across multiple areas.
So for a parent, the question "what's next" would be answered by saying that their child can take any course at a given level, even if they have already taken one. They will be reinforcing concepts they already know, and learning more by applying them in a different context.
Theory vs. Application
Our courses are designed to be a combination of concept and application; whether it's through the 5-step design thinking process in our Prehistoric Predators course or through something as simple as debugging a Scratch project or a mobile app, the emphasis is always on applying the concepts learnt in class.
"He who loves practice without theory is like the sailor who boards ship without a rudder and compass and never knows where he may cast."       
-Leonardo da Vinci
The application of concepts to various problems/projects is where the real learning is. We find that a lot of kids learn better when they are able to visualize what it is that they are trying to create. Theory is one part of it but the application is often just as important. (What is the point of knowledge after all, if you're not going to apply it to something?)
Learning is more interesting when it can be applied to real life, which is why we believe in giving kids the chance to discover where their interests lie, stirring their curiosity and letting them discover for themselves what they like to do. An important part of the Saturday Kids mission is that we cannot teach kids everything there is to know. But what we can do is bring out the curiosity in kids, encourage them to look at problems and think "I can figure this out myself"
So What's Next?
Going back to course progression discussion, our courses are structured such your child can take any course at a given level, even if they have already taken one. They will be reinforcing concepts they already know, and learning more by applying them in a different context. The absence of a series of Scratch classes (for example) arranged from Level 1 to 10, does not mean that your child isn't progressing. From foundational concepts such as loops and variables and broadcast, to applying them in increasingly complex ways, this practice of application is helping concepts stick in your child's mind and understand them better. Check out a full course overview here.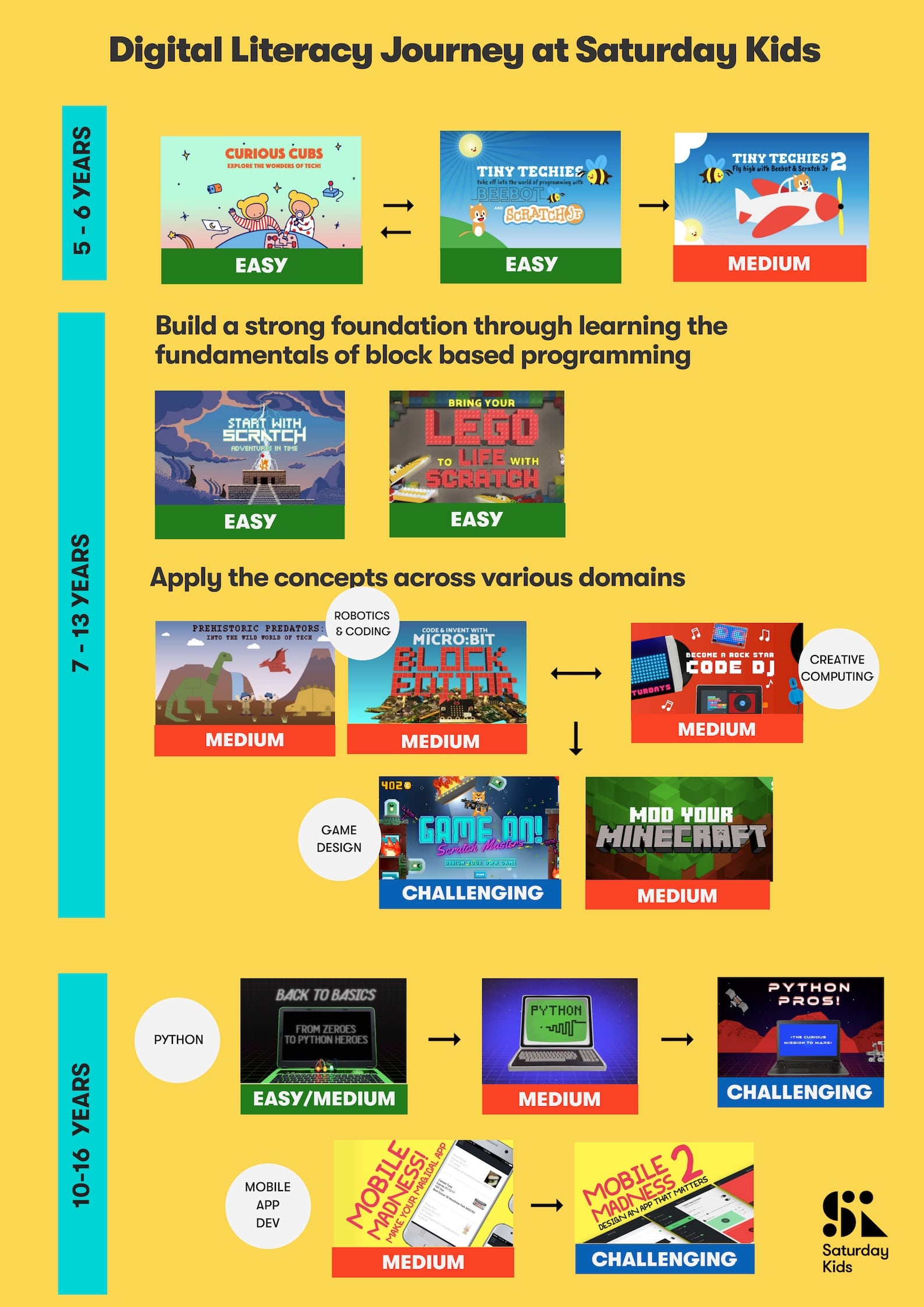 For example, if your child has done Start with Scratch, the next option for them could be something with a mix of robotics & coding : Prehistoric Predators: Into the Wild World of Tech, or Code and Invent with Micro:bit Block Editor. If they're more into creative computing, they could try out Become a Rock Star Code DJ. For those interested in game design and are able to handle a bit of a challenge, they could consider doing Game On, our intermediate Scratch course.
For the older kids, there's Back to Basics: From Zeroes to Python Heroes, a combination of hardware & software. If they're confident with their typing skills, they could progress on to Puzzle out with Python Programming, and then Python Pros! For those more interested in mobile app development, we have Mobile Madness!
Parents with preschoolers, we haven't forgotten about you: check out Curious Cubs, a great introductory course to basic programming concepts. Tiny Techies 1 could be the next step, followed by Tiny Techies 2. 
The progression isn't just in the holidays though. Like any other skill, coding takes practice to perfect so while holiday camps are a great place to start, let your kids continue learning with something more regular, like weekly workshops. 2 hours a week for 8 weeks, your kids will learn the same things they do in a 5-day holiday camp setting, but spread out so as to give them a chance to internalise their learnings.
Our holiday camps run in March, June-July, September & through November-December.
Our weekly workshops run from January-March, April-May, July-September, and through September-November. Our most updated schedule is always available here.
There's plenty for your kids to discover at Saturday Kids, and there's no rule that says that kids can't learn and have fun at the same time. Give weekly classes a try and help us help your kids become curious, inventive, resourceful individuals.
Have a question or wish to share your thoughts with us? We're just an email away – [email protected].