Moms of Saturday Kids: Carol on Applied Learning for the Real World
Introducing the Moms of Saturday Kids! As a school, our goal is to inspire kids to create a better future with tech – and we can't overlook the role of the women who do so much of the work to raise the curious kids we love spending time and launching rockets with. 
Meet Carol – a member of our re:imagine learning community, an advocate for progressive education, and a mother of 4 boys, 3 of whom we've had the joy of getting to know through Code in the Community, Saturday Kids Greenhouse, and CITCx.
Hi Carol! Tell us more about yourself.
"I'm a mother of 4 boys, and work full-time at an ed-tech startup called ClassDo, which is a one-stop interactive online classroom platform. Before this I worked at Nanyang Polytechnic – that's where I saw for myself the value of applied learning, and that changed my perception about the direction in which education should be heading."
Tell us more – what are your views on education and where do these convictions stem from?
"Back in the day, society had a more skewed view of polytechnic education as the 'poorer cousin' of Junior Colleges; and much of my work in Nanyang Polytechnic centered around changing these perceptions on the ground.
Personally, I took the so-called 'safe' route from secondary school to JC and then to university. My husband, on the other hand, went to polytechnic, skipped college, and grew up in the 'school of hard knocks'.
As a family, we're quite different from my peers; we try not to impose on our kids, or ask them what they want to be when they grow up. The world's changing too fast, and we feel those long-term questions are irrelevant and unnecessary. My kids don't grow up with tuition culture – it's much more about exploration and play.
As parents, we believe that if our kids only start learning how to fail when they're adults, it's too late. If they don't want to put in the effort, let them fail and bear the consequences. Let them feel the pinch of failing now, rather than later.
So we try not to influence their choices in any way."
How do you see this approach to parenting and learning play out in your kids?
"While at Nanyang Polytechnic I organised the school's Open House every year, my kids love the campus and its culture, and got exposed to hands-on learning very early.
My oldest child Ian wants to attend a polytechnic in the future because that's where he thinks he can learn the real-life skills he can use to solve problems; thankfully, problems to him are not just problem sums.
I'm quite proud that my sons don't talk about the different educational pathways with coloured lenses – there's really no stigma there. They just think in terms of their individual strengths and which educational pathways are best suited for them. That was a bit of an a-ha moment for me as a mother."
How has your kids' experience at Saturday Kids been?
"The online version of Code in the Community was something my sons really looked forward to during the circuit breaker – they particularly enjoyed the Level 2 Application classes because they were hands-on, and they could apply code to play with the Strawbees and Quirkbots. Code in the Community provided them a chance to learn in a different kind of environment; it's almost like the entire culture and philosophy is very different from what they experience in school.
And in this different environment, they can demonstrate this sense of motivation and behavioural change. I see them now taking a great deal of pride and sense of ownership in their work.
After their coding lessons ended, they'd wake up earlier the next day to work on their code. I've noticed a progression where they'd ask for help less and less, and tried to figure out the answers for themselves. I saw a willingness to be challenged and to try and find out the answers. I don't see the same kind of enthusiasm with their other schoolwork.
And I think it really boils down to designing a safe environment for learning. At Code in the Community, they're placed in an environment with broad parameters where they can explore and make mistakes without heavy consequences. The programme is designed so there's a lot of freedom for the kids to explore and improvise; because it's self-paced kids have their own safe space to learn at a level of difficulty they're comfortable with, instead of pigeonholing the kid. They don't really get this kind of safe space to learn in school – mainstream education is just currently not built that way.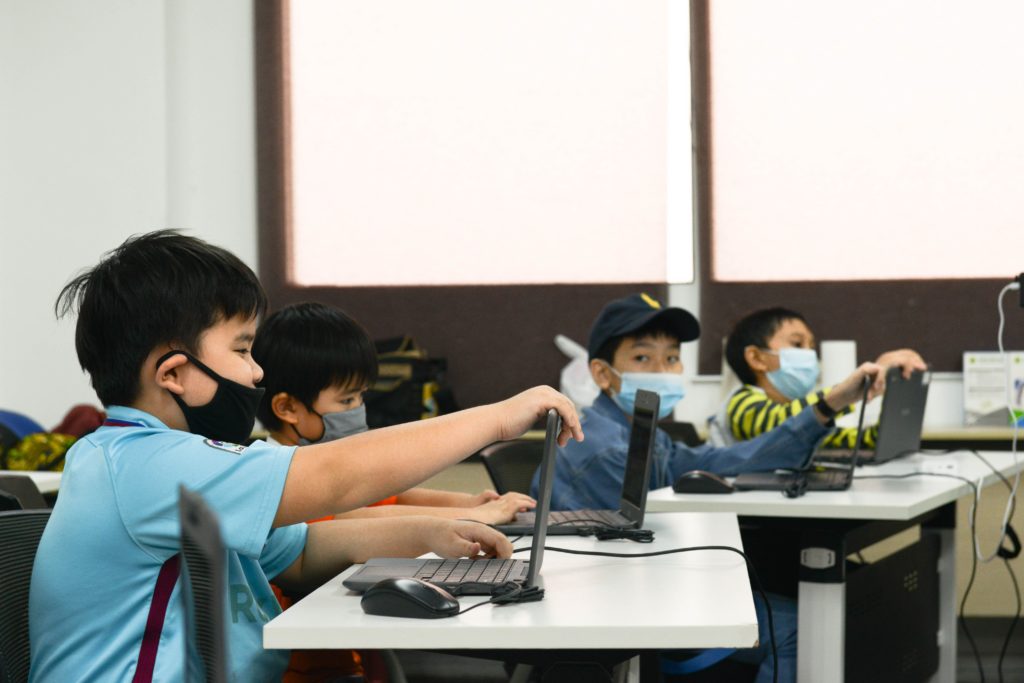 Right now my kids attend Saturday Kids Greenhouse classes weekly, and they hate the term breaks! My youngest kid, Elon, who's in preschool, knows that his brothers disappear every week for the afternoon and will ask me where they've gone. He says now that he's too young, he just does Khan Academy Kids . But when he grows up, he knows he wants to go to Saturday Kids."
[ssba]
More stories you may enjoy