Meet our #CodeintheCommunity Volunteers – Nurin Hasha: "I love teaching because I love learning"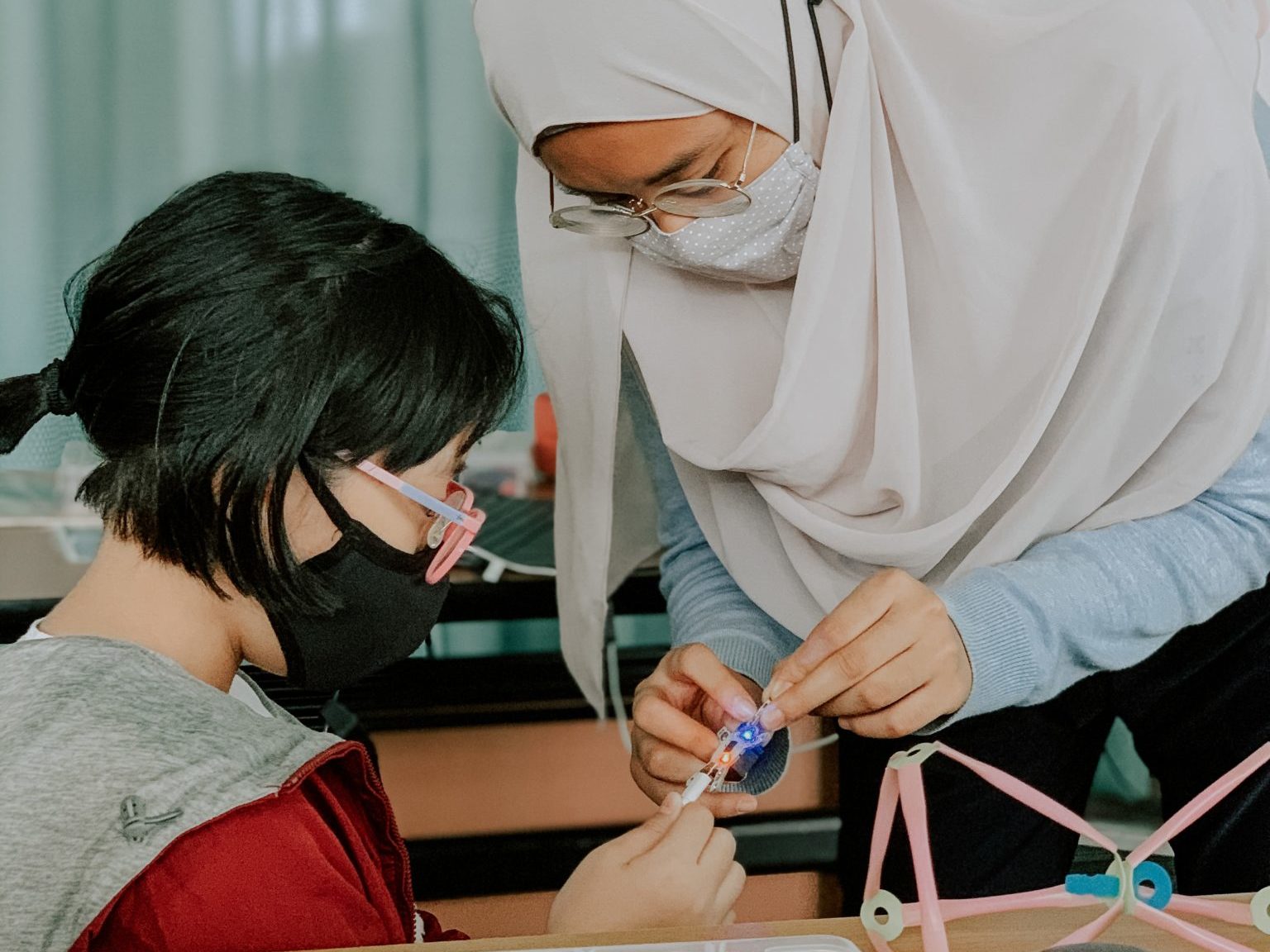 It takes a village to democratise digital literacy. Code in the Community – Singapore's largest free coding programme for disadvantaged kids – is made possible not just through the support of venue sponsors, funders, and our team behind the scenes, but a community of volunteers from all walks of life who give their time and talent to teach kids from under-privileged backgrounds about the world of code.
Get to know some of 'em here – we hope their stories inspire you as much as they inspire us.
Hi Nurin! Could you introduce yourself?
"I'm a student who's just finished my A levels – right now I'm interning at Girl Guides while waiting to go to university. In the future, I want to go into education, and right now I'm trying out different areas to gain more exposure to different fields.
I am quite curious, especially about the future – the world is moving at such a rapid pace, I like how interesting it is – you don't know what's coming next. When I was younger it made me feel uncertain, but I realised you have to embrace uncertainty and be the one to define the future."
What was your experience in school like?
"My school experience was pretty different because of my experience in the Integrated Programme (IP) in secondary school; it was largely project based and emphasised self-directed learning – much like how the Scratch platform is designed.
In the Integrated Programme, I feel like I learned more because education didn't feel so formal – I learned about myself and how to apply knowledge. I was free to choose what to learn – there was a lot of freedom, and it was great."
What got you interested in education for kids?
"I was never interested in teaching 'til I started tutoring during the pandemic.
During the circuit breaker, I learned that a lot of students were struggling because they couldn't cope with not physically going to school. There wasn't enough guidance for them when everything went online. A number of volunteer groups – like Readable, The Learners' Collaborative and Heartware Network supported these kids with the help of volunteer tutors. One group was even formed by former MOE teachers to reach out to these students who fell through the cracks.
Right now, I volunteer to tutor younger kids basic literacy.
Research has shown how important early intervention is. In Primary 1, for example, kids start to learn creative writing skills, but if they can't already read, it's difficult for them to process most kinds of content knowledge which sets them back in terms of learning in school.
I like it when there's a sparkle in a kid's eye – I've found that I love teaching because I love learning."
What led you to Code in the Community?
"At a point during the pandemic, everything was going digital. Based on my volunteering experiences I've seen how difficult it can be for kids to learn at home – I've visited flats where there are 9 kids sharing a small space, and in those circumstances it's really challenging to study at home.
I was wondering how kids like them would be able to make that digital transition, and wanted to figure out how I could help.
I found Code in the Community while searching for 'coding' and 'kids' on Google. I didn't know how to code then, and found it pretty fun to start learning with Scratch."
How has your experience been so far?
"This is the second time I'm volunteering and teaching Level 2 Scratch, which incorporates building with Strawbees and powering up their creations with the Quirkbot. I like that this course is so hands-on.
Honestly, the first few lessons were challenging! I had only taught online prior to this, so this was my first time teaching in person. I also had to figure out how to cater to the needs of the students of different ages, and asked my sister – who's a teacher – for advice about differentiated learning.
I always bring a set of speakers to class and do this thing where I let the kids be the class DJ. Last week we had a robo race, and as the prize, the winner would get to be the class DJ next week! They really like electro-pop and musicians like Alan Walker, and also.. The Coconut Song…"
What do you hope for your CITC kids?
"I just really want them not to let rigid environments dampen their curiosity, questions and courage to explore.
This stems from my personal experience – I love the arts, and I love technology, and math, and philosophy. It is really cool how all these fields of study are interconnected with one another.
I think having a conducive and encouraging space to question, tinker, experiment, wonder and connect the dots is important. It is one of the best feelings to see how things fall into place when learning. I want my students to experience that and hope that the experience will drive them to want to learn more and be critical life-long learners. 
When I was younger I had a lot of questions so I liked to explore them on my own – spending the night doing my own research on specific topics or going to the library to camp and indulge in non-fiction books. Sadly, I did not have someone to share my fascination with or to entertain my myriad of questions.
If the kids are as inquisitive as I was at that age, I just really want to be that person for them. In class, I try to spark more questions about why things are a certain way and how they work – about design and how it's all about empathy.
I constantly try to push them to empathise more – to build with a purpose. Whatever knowledge they learn isn't just for building their projects, but to be applied purposefully.
These kids are so young – My hope is that in Code in the Community they can just play and interact with other kids – to learn to collaborate and work together. Most importantly, I hope that they get a sense of joy out of learning and to be purposeful in whatever project in life they choose to embark on."
More stories you may enjoy