CITC Fieldtrip to LionsBot: "Discovery Comes from Experiences like this"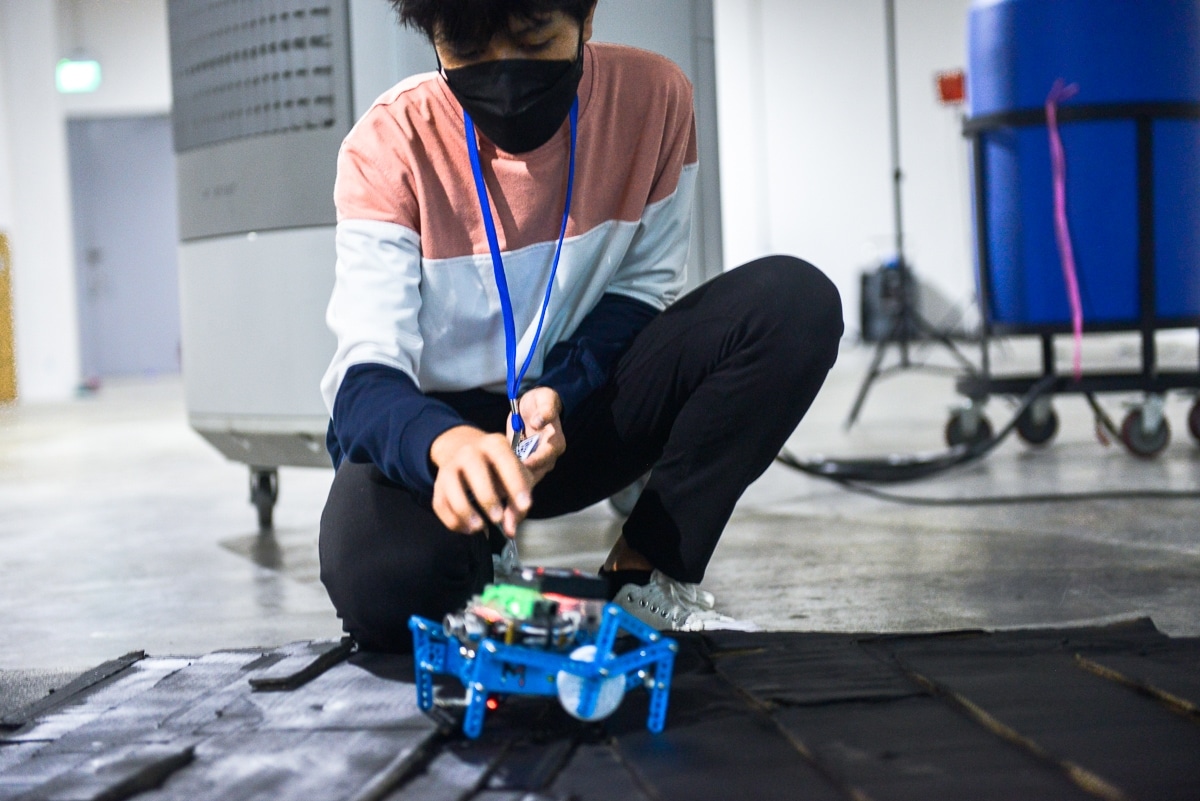 "Discovery comes from experiences like this."
65% of kids will work in jobs that don't yet exist. How then do we prepare kids for and get them excited about the future of work?
Code in the Community is just one way our team at Saturday Kids is equipping kids to navigate the tech-driven, VUCA future. But we also recognise that it's not quite enough. Learning to code is an important skill – but exposure is priceless.
It takes a village to bridge the opportunity gap and the digital literacy gap – that's where partners come in. There's nothing like hands-on learning, and experiencing something for yourself to ignite curiosity and a spark of aspiration.
To celebrate National Engineers' Day, our friends from LionsBot – a robotics cleaning startup – hosted a handful of Code in the Community grads for a day at their office where kids got to check out commercial robots up close, meet with hardware engineers, and build and programme their own robots. 
Enthusiasm is the magic ingredient. Here we chat with Benjamin – a mechatronics engineer from LionsBot and workshop facilitator – who shares about how investing in creating opportunities like these for disadvantaged kids is about passing on a spark and making an impact. 
Tell us about your world of work.
"Here we do a lot of rapid prototyping and developing proof of concepts. That means coming up with new ideas, creating crude prototypes and seeing if they work – if ideas are possible to pursue, or if they should be thrown out the window.
We make as many iterations as necessary… the more the merrier! The speed of prototyping is very fast. For example, we created this robot in under a year, and came up with at least 5 prototypes as part of the process. It's a heavy duty robot that cleans very big warehouses.
Seeing your ideas take form – to be able to hold something in your hand and for it to serve its purpose – is very special. From existing just in your brain, to being in your hand, to being in someone else's hand – is very satisfying." 
Why do you think programmes like this matter?
"Imagine if every kid in primary school or secondary school had an opportunity like this. It might spark something in their heart that might give them inspiration in their career path – something that causes them to go, 'maybe I want to be a robotics engineer'. Here, they're learning through self-exploration. You always want kids to explore on their own, rather than teach them step-by-step. Self-exploration needs to happen.
Through programmes like this, kids will know if they're interested in engineering and robotics. Experiences like this might spark their curiosity, or stir up something in them. I want to help them explore that interest.
That's how it started for me – it was when I was playing with toys that I found that engineering is cool. Discovery comes from experiences like this."
CITC Fieldtrips are about getting kids excited about the world of tech and the future of work – something they can't get from a traditional classroom experience. LionsBot hosted this fieldtrip as part of their community outreach programme, and also sponsored MakeBlock expansion sets for kids to continue their learning at home.
As we work towards inspiring kids to create a brighter future with tech, we're inviting more companies to step up and introduce kids to how they're applying technology to create a brighter future. Who knows what impact we can make when we put our heads together? We'd love to hear from you.
More stories you may enjoy